By
Phil
- 15 May 2023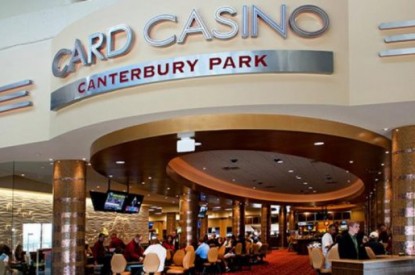 Canterbury Park Racetrack and Casino in Shakopee, Minnesota, generated revenues for the three months ended March 31 of $13.3m, down 2.5 per cent to $13.6m in the same period last year.
The year-over-year decrease was primarily driven by decreases in Casino and Pari-mutuel revenues of 6.2 per cent and 9.1 per cent, respectively, due to decreased attendance attributable to inclement weather, along with lower spend per visit. Food and Beverage and Other revenues grew year-over-year by 20.7%, primarily driven by a more normalized and more strongly attended special events calendar.
Managament said: "Canterbury Park's first quarter results were in-line with our expectations entering 2023 and demonstrate the stability of our business as we've moved beyond the impact of the pandemic and emerged with a more efficient operating structure that enables us to generate attractive levels of cash flow. First quarter revenue of $13.3m and adjusted EBITDA of $2.5m reflect an adjusted EBITDA margin of 18.7 per cent which, while below recent quarters, remains significantly above historical levels. During the quarter, we benefited from the continued normalization of our events and food and beverage businesses which helped mitigate lower Casino revenue compared to last year even as we generated our second highest ever first quarter Casino performance. With the start of our 2023 live racing season coming later this month, we are confident that our guests will experience the level of excitement that Canterbury live racing is known to offer. At the same time, our diligent focus on managing our cost structure and operating as efficiently as possible will help us optimise the operating results of our Racing business.
"Canterbury Commons continues to attract development interest, and we are quickly creating a vibrant lifestyle destination in Shakopee, including what we expect will be a world-class entertainment district anchored by Swervo Development Corporation's 19,000-seat amphitheater. This exciting new attraction is expected to break ground later this spring following our recently completed 37-acre land sale to Swervo. In part to make way for the amphitheater and to free up additional land for development, progress continues on the first phase of our barn relocation and stable modernization efforts. 'Live, Work, Stay, and Play' encapsulates our approach to Canterbury Commons' development, and we believe we are delivering on that promise, with more excitement to come as we complete agreements with additional partners that share our vision and enthusiasm for the experience Canterbury Commons can ultimately provide.
"2023 is off to a very good start, and we remain confident that we have the right operating practices and infrastructure in place to continue our solid performance over the balance of the year. We continue to have an excellent balance sheet with no long-term debt which, combined with our stable cash flow generation, positions us to return capital to shareholders through our quarterly cash dividend. At the same time, our team continues to actively evaluate potential strategic transactions that would allow us to leverage our operating expertise and strong financial position to drive long-term growth. We are also now actively pursuing gaming expansion including for sports betting initiatives in Minnesota which we believe can further support our growth. The future of Canterbury Park has never been brighter, and we look forward to driving our company and community forward."