By
Phil
- 24 November 2020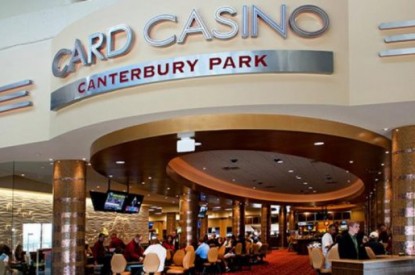 In compliance with the November 18, 2020 executive order from Minnesota Governor Walz requiring temporary closure of places of public accommodation as a measure to slow the spread of COVID-19, Canterbury Park will temporarily suspend all Card Casino, simulcast and special events operations beginning at 11:59 pm on Friday, November 20, 2020.
The executive order provides that the temporary suspension will continue for a four week period through 11:59 pm on Friday, December 18, 2020. Canterbury Park is in active dialog with state and local officials around efforts to mitigate the impact of the pandemic on its operations and the community. The Company's real estate development operations are not suspended as a result of the November 18, 2020 executive order.
"The health and well-being of our team members and guests will always be our paramount concern," said Randy Sampson, Canterbury Park President and CEO. "During the time earlier this year that Canterbury Park was closed due to COVID-19 and since the June resumption of operations with certain limitations, we put in place a detailed COVID-19 Preparedness Plan, including enhanced sanitation protocols and the promotion of social distancing throughout our Card Casino and racing operations. We believe this plan has been successful and are unaware of any spread of the virus amongst our team members or guests related to our operations since we reopened. We are committed to maintaining the same high level of diligence around our COVID-19 Preparedness Plan once we are able to resume operations after this temporary suspension.
"Over the last eight months, we have focused on conserving cash and maintaining the financial flexibility needed to manage through the pandemic including this new temporary suspension of our operations, while continuing our real estate development operations. Our focus has allowed us to generate positive cash flow in the 2020 third quarter, consistent improvements in our financial performance throughout the third quarter, and momentum carrying forward into the first month of the 2020 fourth quarter. As a result, we have no current borrowings on our line of credit, positioning Canterbury Park with the needed liquidity and flexibility for long-term health and growth."
"Our dedicated Canterbury family of employees is of utmost importance to us and we greatly appreciate their patience and support during the ongoing uncertainty caused by the COVID-19 pandemic," Sampson added. "We will continue to communicate directly with our employees and the greater Canterbury Park community if we become aware of new developments and will post updated information on our website as it becomes available. Our goal is to reopen our Card Casino, simulcast and special events operations following the mandated four week temporary suspension and look forward to a brighter future as restrictions on our operations are lifted."