By
Phil
- 30 January 2023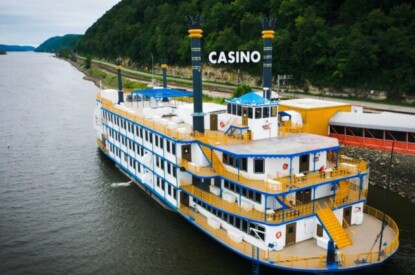 The Queen Casino & Entertainment, which acquired Casino Queen Marquette in 2017, has been granted permission by the Iowa Racing and Gaming Commission to move the picturesque riverboat casino located at 100 Anti Monopoly St. along the banks of the Mississippi River to land.
The commission approved the request during a hearing on Thursday, 26 January.
"We're pleased with the Iowa Racing and Gaming Commission's decision to approve Casino Queen Marquette's landside move," said Terry Downey, President and CEO of The Queen Casino & Entertainment. "Iowa was the first state to recognize riverboat casino gambling, and we plan to honor that history by continuing to provide best-in-class gaming and entertainment at Casino Queen Marquette. The landside move and planned expansion will allow us to provide exciting amenities for our players, the community and tourists visiting this beautiful area."
The decision will set The Queen Casino & Entertainment's plan in motion to move the 17,000-square-foot gambling floor ashore, including more than 400 slot machines, two blackjack tables and several other table games. As part of the remodel, the property will add 12,000 square feet to the current dockside building; an enhanced single-level gaming floor easily accessible from the main entrance with the latest in gaming technology; new dining outposts, including a dedicated sports bar; and more.