By
Phil
- 16 October 2013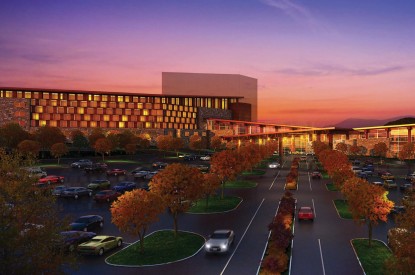 A US$110m project to build a new casino in Cherokee County, North Carolina, is officially underway following a groundbreaking ceremony for the new Harrah's Casino held at the future site of the facility just outside the town of Murphy.
The casino, to be called Harrahs Murphy Casino, will be owned by the Eastern Band of Cherokee Indians (EBCI) and will be managed by Caesars Entertainment Corporation.
The EBCI already owns Harrah's Cherokee Casino Resort, which is located in the town of Cherokee, about an hour away from the new casino site.  The Cherokee County facility will feature 60,000 square feet of gaming space with slots and traditional table games; a 300-room full service hotel; and a variety of dining options.
The casino will be located approximately two hours away from Knoxville, Chattanooga and downtown Atlanta and will serve the large and growing adult population living within that radius. In 2011, 7.4m people age 21 or older lived within two and a half hours of the casino site. Now, more than 7.6m people adults live in that same area.
"Our winning partnership with Caesars Entertainment gives us a proven track record in the gaming industry," said Principal Chief Michell Hicks. "This is an ambitious project, but we are confident that it will be a success – for our customers, our tribe and for the surrounding community."
The games featured will include traditional favourites as well as the most popular slot products available on the market when the casino opens.
"The Cherokee County casino will certainly bear the high standards of the Caesar's name and brand," said Gary Loveman, chairman, chief executive officer and president of Caesars Entertainment Corporation. "We are an industry leader, and we implement the full expectations of that status into every facility we manage. Hopefully, that will translate into continued success for the Eastern Band of Cherokee Indians and the residents and other businesses of Cherokee County."
The casino will create an estimated 900 jobs on-site and inject up to $39m in wages into the surrounding area.