By
Phil
- 2 February 2021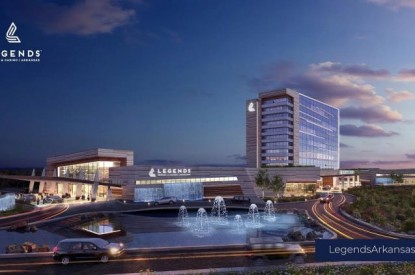 Cherokee Nation Businesses has confirmed it will file an Administrative Procedures Act appeal against the award of a casino licence in Pope County, Arkansas, to Gulfside Casino Partnership by the Arkansas Racing Commission.
The Commission signed off on a new casino license to Gulfside Casino Partnership back in June last year. The company will build and operate a $254m casino resort in Pope County. Mississippi-based Gulfside has said that its casino will generate 1,500 permanent jobs, $29m in annual gaming tax revenue and an estimated payroll of more than $60m.
Terry Green, co-owner of Gulfside said: "This project will create more than 1,500 new jobs and generate millions of dollars in taxes—improving the county's infrastructure and its overall quality of life."
The Cherokees' blueprint for its casino project included a partnership with Legends, a stadium-management, sports, and live entertainment company.
The Cherokees are unhappy due to the scoring by Commissioner Butch Rice who gave Gulfside a score of 100, compared with a score of 29 for the Cherokees. The 71-point difference in his totals was larger than the difference in the commissioners' scores overall.
Dustin McDaniel, an attorney working for Cherokee Nation Businesses' Legends Resort and Casino, slammed the scoring system claiming 'an obviously biased commissioner could potentially overturn the will of the rest of the commission due to the proposed scoring system.'
Mr. McDaniel said: "Our Administrative Procedures Act appeal will be filed soon, and it will highlight the points addressed in the Objections and Orders entered. The commission violated its own rules governing acceptance and scoring of license applications, disregarded the analysis of its outside consultant who said that Legends was the superior applicant in every respect, unlawfully altered the scores rendered by its review panel, and overlooked substantial evidence that Gulfside and its owners intentionally withheld evidence of their past bankruptcies, criminal investigations, and ineligibility for licensure in Mississippi. Despite the AG's office expressly warning Commissioners not to engage in arbitrary, capricious or biased scoring, Commissioner Rice in fact single handedly overturned the score given by the rest of the commission."
Commissioner Rice has defended his scoring, saying Gulfside Casino Partnership was a better fit for Russellville, Pope County and Arkansas.
"The job creation was big to me, and that's what Gulfside proved, and that's what the people of Pope County would have been looking at," he said.
Scott Hardin, spokesman for the Arkansas Department of Finance and Administration, added: "The approval of this Order was the last action required of the Commission related to the Pope County license. With this complete, the decision to issue the license to Gulfside may now be formally challenged via litigation."
In meeting last week, the Arkansas Racing Commission defended its decision saying it 'properly exercised its authority in evaluating the applications and awarding points based on each merit criterion.'
Caption: Cherokee's plans for