By
Lewis
- 22 October 2020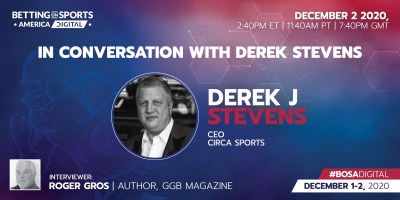 Derek Stevens will give delegates at December's Betting on Sports America – Digital conference the inside track on the soon-to-debut Circa Resort & Casino development that has generated so much excitement in Las Vegas.
The Circa Sports owner and CEO will share his insights on the launch of the resort casino and its vast sportsbook during a keynote interview with longtime industry insider Roger Gross, publisher of Global Gaming Business magazine.
Stevens rounds out an elite trio of operator executives who will be providing keynotes at the Dec. 1-2 virtual event, joining the previously announced William Hill U.S. CEO Joseph Asher and MGM Resorts CEO BIll Hornbuckle on the roster.
Few industry executives are better positioned to discuss the Las Vegas market and the growth of sports betting than Stevens, who is also owner of the Golden Gate Hotel & Casino and the Downtown Las Vegas Events Center.
Stevens has been a staple of the downtown Las Vegas movement since coming to the city in 2008. His first investment was in the redevelopment of Golden Gate. Since then he has been on a mission to revitalise downtown Las Vegas and transform the thriving Fremont Street entertainment experience.
His latest project Circa could be his boldest initiative yet. The first new integrated resort casino built from the ground up in Downtown Las Vegas in four decades, Circa will open October 28, 2020.
The centrepiece of the 777 room property is the world's largest sportsbook. The multi-level facility features stadium-style seating and a capacity of 1,000 people. Since its inception Stevens' Circa Sports has operated books that are open to all bettors from beginners to sharps. The Circa Resorts & Casino takes the brand to an entirely new level.
The property opens at a time when Circa is also expanding outside of Nevada, having launched Circa Sports Colorado earlier this year. Stevens said despite the current pandemic, the industry still finds itself in a time of huge growth potential.
"Operators certainly have challenges right now and must be nimble in order to endure the current challenges," he said. "Once we are able to weather this storm, and come out the other side of it, good things will be on the horizon. Circa Sports is in a great position today and well into the future."