By
William
- 3 January 2020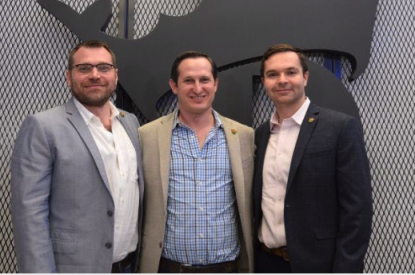 US daily fantasy sports operator DraftKings has entered into a definitive business combination agreement with Diamond Eagle, a publicly traded special purpose acquisition company, and SBTech.
The combined company will become the only vertically-integrated pure-play sports betting and online gaming company based in the United States. In connection with the closing of the transaction, Diamond Eagle intends to change its name to DraftKings Inc., reincorporate in Nevada and remain Nasdaq-listed under a new ticker symbol. The transaction is expected to close in the first half of 2020 subject to the registration statement being declared effective by the Securities and Exchange Commission ("SEC").
The new DraftKings will continue to be led by co-founder and CEO Jason Robins and will retain DraftKings' highly experienced management team, including co-founders Paul Liberman and Matt Kalish. The SBTech management team who bring a wealth of international markets, trading and risk management experience will also be integrated into the organisation.
"The combination of DraftKings' leading and trusted brand, deep focus on customer experience and data science expertise and SBTech's highly innovative and proven technology platform creates a vertically-integrated powerhouse," said Jason Robins co-founder and CEO of DraftKings. "I look forward to building significantly upon our goals of continuing our state-by-state rollout and creating the most entertaining and engaging customer experiences for sports fans globally."
Institutional investors (including funds managed by Capital Research and Management Company, Wellington Management Company and Franklin Templeton) have committed to a private investment of $304m in Class A common stock of the combined company that will close concurrently with the business combination and, subject to any redemptions by DEAC stockholders, there is $400 million currently held in Diamond Eagle's trust account. It is anticipated that the combined company will have an equity market capitalization at closing of approximately $3.3 billion and have over $500 million of unrestricted cash on the balance sheet.
"We are pleased to bring DraftKings and SBTech together as one public company," said Harry E. Sloan, Founding Investor of Diamond Eagle. "DraftKings is already a premier online fantasy sports and betting platform. With the full integration of SBTech's technology and innovative product expertise coupled with the right capitalization, DraftKings will be in a great position to continue its ambitious expansion plans in the United States. I have known Jason Robins for four years, and consider him a true entrepreneur. I believe our investors share my utmost respect for his vision and leadership."
Since becoming the first mobile operator to launch in New Jersey in August 2018, DraftKings has consistently maintained greater than 30% online market share, and for the nine months ended September 30, 2019, the company recorded 8.5x year-over-year revenue growth in the state.
DraftKings currently offers mobile and online sports betting in Indiana, New Jersey, Pennsylvania and West Virginia, and retail locations in Iowa, Mississippi, New Jersey and New York. DraftKings' daily fantasy sports product is available in 43 states and 8 international markets including Australia, Canada and the U.K., has approximately 60% market share and leverages its customer acquisition and cross-selling model for its sportsbook and iGaming offerings.
DraftKings established a "one-platform" model by launching features like single sign-on, an integrated wallet and universal user profile, that allows a user to move seamlessly between a DFS contest, a sports wager and a hand of blackjack, enabling the company to quickly bring to market new offerings without reinventing the wheel of an entirely new back-end infrastructure.
SBTech is a global full-service B2B turnkey technology provider with omni-channel sports betting solutions, trading services, and marketing and bonus tools powering some of the world's most popular sports betting and online gaming brands.
"The combination of DraftKings and SBTech brings together two tech-native companies with the customer at their cores," said Gavin Isaacs, SBTech's Chairman. "SBTech will maintain its core business and continue its B2B focus. We are excited about the opportunity to join a company with a similar innovation DNA and create a unique and differentiated player in global sports betting and online gaming."
SBTech has over 50 partners in more than 20 regulated markets and jurisdictions including the Czech Republic, Denmark, Ireland, Italy, Mexico, Portugal, Spain, Sweden, and UK, together with Arkansas, Indiana, Mississippi, New Jersey, and Pennsylvania in United States. SBTech were recently awarded an exclusive contract offering mobile and retail sports betting for the Oregon state lottery with their Oregon Lottery Scoreboard brand.