By
Phil
- 30 August 2022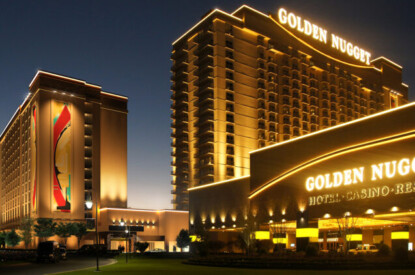 Golden Nugget – Lake Charles and DraftKings has announced that the permanent retail DraftKings Sportsbook at Golden Nugget Lake Charles, the largest retail sportsbook in Louisiana, is expected to open on Thursday, 1 September at 5pm. The permanent location, will replace the previous temporary retail DraftKings Sportsbook at Golden Nugget Lake Charles.
The retail DraftKings Sportsbook will offer a premier sports betting experience across more than 12,000 square feet, including over 3,200 square feet of LED TV screens to enjoy live games; approximately 300 lounge seats including VIP areas for comfortable viewing; five ticket cages to allow customers to place bets; 16 video poker machines; three Blackjack tables; and 30 self-service kiosks spread throughout the Golden Nugget Lake Charles casino.
"Just in time for football season, we look forward to offering our guests the excitement of live games in an immersive audio-visual experience," said Gerry Del Prete, Chief Operating Officer of Gaming, Fertitta Entertainment Inc. "We believe this DraftKings Sportsbook will raise the standards in sports betting and offer an unparalleled entertainment experience."
The DraftKings Sportsbook will also offer a full-service restaurant, the DraftKings Sportsbook Bar & Grill, with a variety of dining options during breakfast, lunch, and dinner, including a "quick grab" menu. The restaurant will serve popular gameday favorites from burgers to wings and a variety of items in between, as well as a wide selection of beer, cocktails and frozen drinks at its full-service bar.
"We are thrilled to be opening our permanent retail DraftKings Sportsbook inside the Golden Nugget Lake Charles," said Michael Kibort, Sr. Director, Retail Sportsbooks at DraftKings. "The massive space, big screen TV's, odds boards and dining options will bring the DraftKings brand to life in an ideal setting to experience live sports."
The regular hours of operation for the DraftKings Sportsbook at Golden Nugget Lake Charles will be Monday – Friday from 10am – 11pm and Saturday's and Sunday's from 9am – Midnight. Customers will be able to place bets at any time on kiosks located throughout the casino floor.
An active member of the American Gaming Association, DraftKings is committed to promoting the Association's Have A Game Plan.® Bet Responsibly public service campaign, which educates customers on responsible gaming best practices such as setting a budget and sticking to it and only playing with legal, regulated operators. Additionally, DraftKings is committed to creating inclusive and responsible pathways for people to build, create, imagine and innovate through the DraftKings S.E.R.V.E.S. program.