By
Phil
- 12 October 2021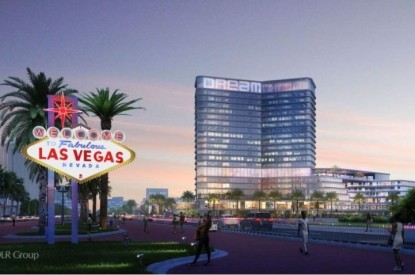 The Clark County Commission has voted 6-1 to green-light plans for Dream Las Vegas, a 20-story, 527 room hotel-casino that would be built close to McCarran International Airport in Las Vegas.
The US$500m project has had to overcome concerns over illegal drone flying, laser lights, shootings and even bombs hidden on its premises due to its proximity to Las Vegas' airport.
The project is the brainchild of Shopoff Realty Investments and Contour who have bought 5.25 acres of vacant land on the Las Vegas Strip. The land is located at 5051 S. Las Vegas Blvd. near the intersection with Russell Street, less than one mile from the Mandalay Bay Resort.
"Las Vegas continues to be a vacation destination for people from across the U.S. and abroad and this property's location on the historic Las Vegas Strip gives it great potential as an investment," explained Shopoff Realty Investments' President and CEO William Shopoff. "Utilising our entitlement and real estate expertise, the Shopoff and Contour teams will work diligently with the city to help bring this project to life."
Shopoff and Contour will complete the design and gain all approvals in order to begin construction. The vacant site will then be transformed into a full-service luxury hotel with 450 guest rooms (branded and managed by Dream Hotel Group), 56,000 square feet of food and beverage space including a rooftop nightclub, pool and deck, 12,000 square feet of ballroom/meeting space, a full-service spa, fitness center, and dedicated parking.
David Daneshforooz, Chief Executive Officer of Contour added, "There is no shortage of mega-resorts in Vegas, but there is when it comes to boutique hotels that offer a more intimate experience. A ground-up Dream hotel with its world-class food and beverage offerings is a perfect boutique addition to the Las Vegas Strip for visitors seeking a more intimate experience."
The property is located less than one mile from the Mandalay Bay Resort, and provides close access to McCarran International Airport, the new Allegiant Stadium (home to the National Football League's Las Vegas Raiders), the T-Mobile Arena (home to the National Hockey League's Las Vegas Golden Knights), as well as the numerous hotel and casinos along S. Las Vegas Blvd.
"We are honored to partner with Shopoff Realty Investments and Contour as we work together to bring Dream's vibrant, design-driven brand of hospitality to Las Vegas," said Dream Hotel Group CEO Jay Stein. "When open, Dream Las Vegas will be unlike anything else currently available on the Las Vegas Strip, offering a new go-to destination for locals and out-of-town pleasure seekers alike."
Its developers believe the property will 'find our following' among tourists who don't want to stay in a huge hotel-casino. The project raised many unusual 'safety and security concerns' due to its proximity to McCarran airport with plans sent out to the FBI, the Department of Homeland Security, and the Secret Service.
The Transportation Security Administration said the project was close to part of the airport 'used for high-level individuals, special operations and military aircraft parking,' and 'would increase risk to both the aircraft and the passengers due to active shooters and the ability to throw things over the fence intended to cause harm.'
It added that the service road for the hotel would make the airport 'more susceptible to Vehicle Borne Improvised Explosive Device attacks delivered by vendor or garbage truck,' and that some floors would 'provide a direct line of sight for laser flashing and long gun attacks.'