By
Phil
- 22 April 2014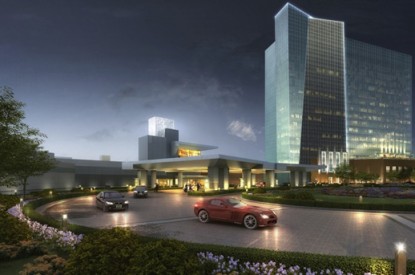 Empire Resorts has now submitted the US$1m application fee to the New York State Gaming Commission for a destination gaming resort license in the Catskills.
Pursuant to the Request for Applications, an individual, entity, consortium or other party evincing interest in a Gaming Facility License becomes an applicant upon payment of the $1m application fee. Such fee must be paid by April 23, 2014 in advance of a mandatory applicant conference.
Empire Chairman Emanuel Pearlman said: "We have been working diligently on this project for over three years. Adelaar is a project that is well positioned to meet the RFA's requirement to be open 24 months after a license is granted. We are continuing our partnership with local upstate stakeholders and we look forward to providing the New York State Facility Location Board with a comprehensive application package that exceeds the requirements of the RFA."
The payment of the $1m application fee is an important first step of the overall vetting process that will determine the award of a Gaming Facility License in the Hudson Valley/Catskills region of upstate New York. Empire Resorts previously announced it has planned a four-star hotel that will have approximately 391 rooms. The proposed gaming facility is expected to include a 70,000-square foot gaming floor with a variety of table games and slots machines, restaurants and beverage outlets, a conference center, meeting rooms, spa and salon, and entertainment venues.
Empire has in place essentially all of the approvals and permits to commence
construction immediately upon the awarding of a Gaming Facility License. This includes all zoning, master development and environmental approvals for the gaming facility.
In addition, the Town of Thompson Board recently voted in favour of supporting Empire's application to the Facility Location Board for a Gaming Facility License. Empire previously announced it has signed a Labour Peace Agreement with the New York Hotel and Motel Trades Council, and our construction manager has signed a Project Labor Agreement with the Hudson Valley Building and Construction Trades Council.