By
Phil
- 21 October 2014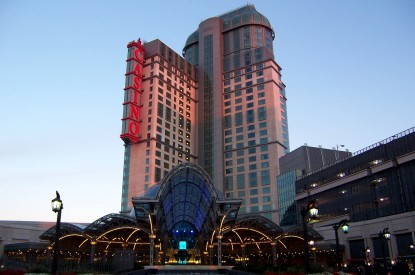 Fallsview Casino has once again been acknowledged at this year's American Gaming Association Communications Awards ceremony held on October 1 in Las Vegas, recognising outstanding achievements in advertising and corporate communications in the global gaming industry.
Fallsview Casino was honoured to stand next to internationally acclaimed casinos such as Wynn Resorts Ltd. and MGM Resorts International to win multiple awards including Best Broadcast Advertisement for the humorous television ad, "Caddy," and the Leading Edge award for the "Yonge-Dundas Augmented Reality" interactive billboard.
The award-winning commercial was created in partnership with Blammo Worldwide and illustrates how the anticipation of a trip to Fallsview Casino can be valued almost as much as the experience itself. The interactive billboard displayed at Yonge-Dundas Square in Toronto was the result of a partnership between Fallsview Casino, Blammo Worldwide and Pixelpusher.ca, and is truly a unique example of applying interactive technology to outdoor advertising.
"Everything created by our Marketing Department is designed to intrigue audiences by capturing the excitement people can expect while visiting the casino resort," said Art Frank, President, Niagara Casinos. "We're very proud that their hard work and creativity has been acknowledged against such worthy competitors."
In addition to the AGA Awards, Niagara Casinos was thrilled to once again be recognized by both Benefits Canada and Wine Spectator for numerous awards.
At the Workplace Benefits Awards ceremony on October 9, Benefits Canada awarded Niagara Casinos the Health/Wellness Program (more than 1,000 employees) award for developing an innovative and effective health and wellness program demonstrating improved health outcomes for employees. Niagara Casinos was also granted the Pension Plan Engagement award recognizing innovation and leadership, and for demonstrating employee engagement and commitment.
"We are extremely proud to be recognized for our employee benefit program at Niagara Casinos," says Frank. "It reflects the respect and appreciation we have for our Associates in all aspects of their lives." Niagara Casinos was previously acknowledged by Benefits Canada in 2013 with the Workplace Safety Award.
For the sixth consecutive year the Wine Spectator Best of Award of Excellence was bestowed upon both Ponte Vecchio and 21 Club located at Fallsview Casino. This award gives special recognition to restaurants with wine lists displaying superior presentation, vintage depth and excellent breadth across several wine regions.
Additionally, Lucky's Steakhouse at Casino Niagara was presented with a Wine Spectator Award of Excellence for its well-chosen selection of quality wines. Wine Spectator's Wine List Awards acknowledges restaurants whose wine lists offer interesting selections, are appropriate to their cuisine, and appeal to a wide range of wine lovers.
Niagara Casinos can include these nods of approval with a number of other awards recently received including two Bronze Stevie's at the International Business Awards for Best Internal Recognition Event (Ovation Gala) and Best Motivational Video ("We Make a Difference"). Niagara Casinos was also given the Niagara Falls Review Reader's Choice Award for Best Comedy Club (Yuk Yuks),Best Spa Facility (The Spa at Fallsview Casino Resort) and Best Employee (Brad Latour).
"Whether internally for the 4,000 Associates we employ, or publicly for the millions of guests that visit us each year, we never stop striving to be creative, innovative and to stay ahead of the game" Mr. Frank added. "We are very thankful that our industry peers acknowledge the commitment and devotion that goes into the experience that is Niagara Casinos."