By
Phil
- 15 August 2018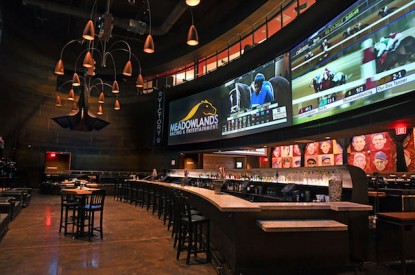 New Jersey's sportsbooks did not disappoint in their first full month of operation, increasing wagers dramatically in June while nearly doubling the number of open sportsbooks to five.
New Jersey's sportsbooks generated $3.8m in gross revenue on $40.7m in wagers in July, according official reporting released Tuesday. Both metrics are up from the $3.5m in gross revenue generated in June on $16.4m in wagers completed.
The first full month of operation for Monmouth Park, Borgata Hotel Casino and Spa, and Ocean Resort Casino — which all opened June 14 or later and the addition of two new sportsbooks in July were the key drivers to the growth.
FanDuel Sportsbook at Meadowlands Racetrack opened on July 14, placing a legal sportsbook on the doorstep of New York City. Caesar's Entertainment opened the sportsbook at Bally's – Atlantic City on July 30, and later opened the book at Harrah's Resort Atlantic City on August 1.
Of the existing books, Ocean Resort led the way with $1.03m in gross revenue by generating $33,444 per day. Ocean Resort opened 28 June. Monmouth Park tallied $856,280 in July gross revenue, generating $27,622 per day. That was down from $142,448 per day in June and $2.3m in gross revenue in 16 days of operation. Borgata tallied $562,280 in July revenue, up from $986,831 in June, and $18,138 per day.
Resorts Casino Hotel will host a ribbon cutting ceremony on August 15, to commemorate the opening of its first sports book on-property.
The Resorts Sports Book will open to the public just in time for the fall sports season with six featured betting windows. With an interactive lounge area, the state-of-the-art sports book at Resorts offers comfortable seating for those looking to enjoy the game and see their bet come to life first-hand across a 12-foot video wall with 15 television screens.
Dustin Gouker, lead sports betting analyst for PlayNJ, said: "Considering the rate at which sportsbooks are opening in New Jersey, it is certainly not surprising to see a steep increase in revenue and the amount of money wagered. The underlying data points are impressive, though. And it's important to remember that this is the industry's infancy. A mature, fully established New Jersey sports betting market could field billions of dollars in annual wagers."
Revenue growth slowed at the existing books, but we expect it to hasten once football begins later this month," Mr. Gouker added. "August will be fun to watch, as it will give us our first full month-over-month comparisons."
The new sportsbooks fared well. FanDuel Sportsbook posted $1.35m in July gross revenue, leading all books by generating $43,790 per day. Bally's AC generated $17,788.
The addition of legal sportsbooks should only continue. Resorts is expected to open its sportsbook in days, and at least three more are in either the planning or construction phases. In addition, DraftKings became the first operational online sportsbook earlier this month.
"By the end of the year, New Jersey should have perhaps as many as a dozen online sportsbooks," Mr. Gouker said. "With football season coming soon, we expect the pace of conventional and online sportsbooks entering the market to only increase."
New Jersey's legal online gambling industry continued its winning streak, too, generating a record $25.9m in gross revenue in July, up 14.2 per cent from $22.7m in June. A 25.8 percent increase from $20.6m in July 2017, July 2018 marks the 45th consecutive time that monthly gross revenue has increased year-over-year.
Legal online gambling has generated an average of $23.6m a month and $165.4m in annual revenue so far this year, putting the industry on pace to shatter the $245.6m annual revenue mark set just last year. And with online sports betting set to take off in August, the rate of growth should only increase.
This has proven to be critical to once struggling Atlantic City.
"Atlantic City casinos cracked 30,000 employees for the first time since 2014, proving once again that online gambling hasn't cannibalized New Jersey's land-based casinos," said Steve Ruddock, lead online gambling analyst for PlayNJ. "Add more than $155m in additional tax revenue that online gambling has generated since it began in 2013, and online gambling has proven to be an unqualified success."
With July's collection of $4.5m in tax revenue, online casinos have now generated $155.4mfor New Jersey since the industry was born in November 2013.
Now with $887.9m in lifetime revenue, the industry could hit the $1bnmark by the end of the year.
Research by the American Gaming Association suggests that sportsbetting is bringing new customers to casinos with sports betting adults being more affluent, younger, more diverse and better educated adults than the general population.
The research identifies groundbreaking demographic and behavioural characteristics of self-identified bettors who the AGA believes will populate the future legal US betting landscape. A second, forthcoming element of the project will estimate the amount of revenue this demographic can help unlock for the major US sports leagues.
Among this crucial demographic for sports leagues and broadcasters, 71 per cent of those research participants who currently bet with a bookie say they would shift some or all of their betting activity to a regulated market if they had access to a legal platform.
According to Nielsen Sports, who conducted the research, 44 per cent of sports bettors are adults under the age of 35, as opposed to 31 percent of the general population. Twenty-nine percent of bettors earn a household income of more than $100K, almost double the proportion of the general population.
"The Nielsen Sports data supports what we've long expected: access to legal sports wagering will increase fan engagement in major sport contests and enable a significant revenue generation opportunity for major sports leagues and teams," said Sara Slane, senior vice president of public affairs for the American Gaming Association.
"Expanding access to legal sports betting will bring millennial audiences back to sports broadcasts and stadiums, which is a huge benefit for sport enterprises across the country. However, this potential will only be realized with proper policy frameworks that empower consumers with competitive odds, access to all bets and the ability to tap into modern platforms including mobile. Without this focus on consumers, the illegal market will continue to thrive."