By
Phil
- 20 April 2018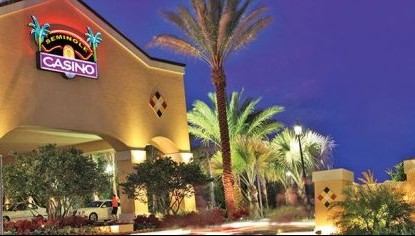 The state of Florida has agreed a deal that will lead to the Seminole Tribe continuing to pay more than $300m a year in casino money to the state in exchange for the exclusive rights to offer card games until May 2019.
The tribe will also be the state's only slot-machine operator outside of Miami-Dade and Broward.
The original compact agreed in 2010 expired in 2015 with a number of operators beginning to offer carded games. The new deal will see the State 'taking aggressive enforcement action against the continued operation of banked card games at state-regulated card rooms.'
Under the current compact between the Seminole Tribe and the State of Florida, the Tribe pays more than $300 million per year into the state's General Revenue fund. This agreement does not make any changes to state gaming law or expand current gaming operations in Florida in any way.
Governor Scott said:" I am proud to announce that the State of Florida has reached an agreement with the Seminole Tribe which ensures the Tribe's current commitment remains intact. Since I took office, the Seminole Compact has generated more than $1.75bnwhich has helped our state make historic investments in things like Florida's education and environment. With today's agreement, revenue sharing payments from the Tribe will carry on as the Florida Department of Business and Professional Regulation (DBPR) continues its work of aggressively following and enforcing Florida's strict gaming laws and rules."
Seminole Tribe of Florida Chairman Marcellus Osceola Jr. added: "The Tribe is committed to its long term compact with the State of Florida and intends to continue making revenue sharing payments as spelled out in the agreement. The gaming compact, which runs through the year 2030, is good for the people of Florida and good for the members of the Seminole Tribe. The Tribe is investing more than $2.4bn to expand its Seminole Hard Rock Casinos in Tampa and Hollywood and is hiring thousands of Floridians to fill jobs in construction and as permanent team members."
Seminole lawyer Barry Richard added that the new agreement 'was intended as a level of comfort to anybody in the Legislature or the governor's office or anywhere else that had any concerns that the tribe was intending to end the payments, which we never intended to do.'
Related Stories