By
Phil
- 15 August 2017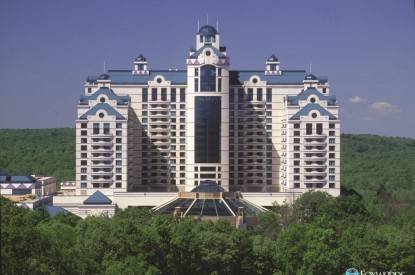 Foxwoods Resort Casino has announced the next step in the resort's long-term plan to develop a comprehensive portfolio of ecotourism options with the opening of the Thrill Tower at Foxwoods.
The brand-new, extreme thrill ride includes two new rides, the Sky Drop and Sky Launch, and marks another stage in Foxwoods' evolution as a full-service resort casino destination.
On the Sky Drop, four riders at a time are lifted to the top of Thrill Tower before free-falling 120 feet to the bottom. This ride utilises a state-of-the-art magnetic breaking system to safely ensure a smooth, yet gripping free-fall experience. Sky Launch, which is equally adrenaline-inducing, propels two riders sitting back-to-back from the ground to the top of Thrill Tower and back again at jaw-dropping speed. Through providing maximum rider exposure, Sky Launch delivers a truly unmatched soaring sensation.
"At Foxwoods, our mission is to reimagine the modern resort casino," said Jason Guyot, Vice President Resort Operations & Development at Foxwoods Resort Casino. "Thrill Tower at Foxwoods offers guests the chance to experience an unforgettable and truly unique moment, which is exactly what guests expect when they walk through our doors. The addition of these outdoor adventure attractions represent a significant development in a larger strategy to separate from the competition with bold, innovative property offerings."
Thrill Tower at Foxwoods is yet another exciting reveal as Foxwoods celebrates its 25th Anniversary, and comes on the heels of the resort announcing the opening of Foxwoods HighFlyer Zipline. The HighFlyer Zipline is a 33-story high, adrenaline-pumping adventure that launches guests from the top of the Fox Tower to the Mashantucket Pequot Museum & Research Center at a top speed of 60 miles per hour.