By
Phil
- 17 August 2015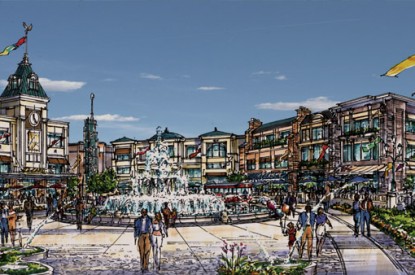 Full House Resorts has presented its proposal to build American Place, a $650m lifestyle center, to revitalise a prime area of Indianapolis that has been dormant for years.
This was in response to the Indianapolis International Airport's Land Use Initiative RFP. The Airport Authority recently conducted an extensive review of its land holdings and will put several hundred acres on the market for sale or lease for non-aviation purposes. If selected, this project would be one of the largest privately funded construction projects in Indiana history.
Proposed for the 135 acres of land along I-465 and High School Road, near where the previous airport terminal was located, American Place will include a small, high-end casino, approximately 700,000 square feet of high-end creative retail space, a 25-villa boutique hotel designed to offer the most luxurious accommodations in the Midwest, a seasonal plaza with ice skating and a European Christmas market in the winter and landscaped gardens and forests in the summer, and a central square surrounded by a unique fountain and 3-D imaging experience.
"We can build something here, at the Crossroads of America, that doesn't exist anywhere else. We can build a place that will add to the appeal of Indianapolis, make the city proud, and attract both Indiana residents and visitors," said Daniel Lee, CEO of Full House Resorts. "Given the adjacency of the airport, we expect the center to attract people from throughout the country to an experience that is part Indianapolis, part Las Vegas, and 100 percent unique," added Mr. Lee.
"We purposely did not include a large hotel in our plans for this center," noted Mr. Lee. "Because the old airport terminal was nearby, there are numerous existing hotels near the site. For that reason, we are building only a small hotel within the center, primarily for casino high rollers. We then plan to operate a shuttle service connecting American Place with all neighbouring hotels." An independent third-party study estimated American Place would generate approximately $85m per year in state and local taxes, create approximately 4,000 permanent jobs, and attract 10 to 15m visitors per year.
Full House and its management have deep experience working with local constituencies to reach optimal outcomes. If selected, Full House will be supported by several established, local firms – including Shiel Sexton and Bingham Greenebaum Doll – in this endeavour.
American Place would be anchored, both physically and financially, by a small casino comprising less than five per cent of the project's total square footage.
"Our position in proposing the casino portion of the development is unique, as we are simply intending to relocate gaming positions within Indiana, not seeking authorization for any new positions," added Mr. Lee. "Recognising the increased gaming competition from neighbouring states that Indiana has and will continue to face, the Indiana legislature recently limited gaming within the state, but in a way that allows the free market to optimise the industry and tax revenues for the state. We are proposing to relocate approximately half of the gaming capacity from our over-supplied existing casino in Rising Sun, so as to not increase the number of authorized gaming positions within Indiana. In addition, our proposed interests in Indianapolis will benefit the city of Rising Sun and help keep our southern Indiana interests viable."
The Full House proposal will require approval of the Airport Authority as landlord and modification of gaming legislation by the Indiana legislature to permit the relocation of underutilized gaming equipment. If approved by the legislature and the Indiana Gaming Commission, transfers of gaming equipment will be done under the Rising Sun gaming license and revenues earned will help both Indianapolis and Rising Sun, as the parent company shares profits to support sister developments.
"In my career, I have helped develop 10 major casino and entertainment projects, all of which have been successful. Based on that experience, I estimate that if all goes well, American Place should open in three to five years," added Mr. Lee. "Every great project starts somewhere. American Place starts today."