By
Phil
- 15 November 2023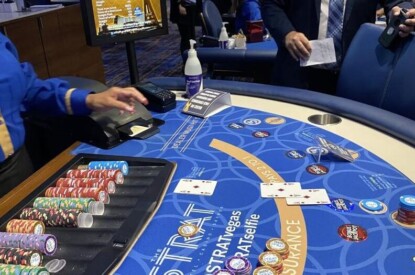 Galaxy Gaming, a developer and distributor of casino table games and enhanced systems for land-based casinos and iGaming content, has said it is course for a record year revenue increasing three per cent to $6,104,000.
For the year as a while so far, revenue has increased 20 per cent to $21,052,000.
"Despite some challenges in the third quarter, 2023 is shaping up to be a record year for Galaxy," said Todd Cravens, President and CEO. "We had a sequential decline in revenue in Q3 principally because sales of perpetual licenses were lower in Q3 than in Q1 and Q2. We expect that future sales of these perpetual licenses will make our quarterly results lumpier than in the past. However, we will continue to pursue these sales as they result in substantial increases to our installed base and offer additional recurring revenue opportunities.
"Galaxy became the distributor of EZ Baccarat on September 9 and added approximately 500 tables in approximately 120 casinos to our installed base. This is a significant step in our strategic plan of penetrating other table games families in addition to blackjack. Based on the existing installed base, we believe that the distribution of EZ Baccarat could add more than $3m to our EBITDA on an annual basis, with upside coming from new installs both in the land-based and online markets.
"Finally, we had our best G2E show ever, setting us up for increased revenue in fiscal 2024," concluded Cravens.
"Perpetual license sales were $0.5m in Q3 as compared to $1.3m and $1.6m in Q1 and Q2, respectively," said Harry Hagerty, CFO. "Excluding those sales, revenue in GG Core was $3.8m in Q3 '23 as compared to $3.9m in Q3 '22. In GG Digital, revenue (net) was $1.8m in Q3 '23 as compared to $2m in Q3 '22. GG Digital revenues in Q3 '23 exclude approximately $69,000 of deferred revenue that will be realized no later than April of 2024. Gross revenues were flat at $2.5m in Q3 '23 as compared to the same period in 2022, which is a positive result given the reduced license rate we now have with a large customer. Royalty expense (which is a contra revenue item in GG Digital) increased from approximately $516,000 in Q3 '22 as compared to approximately $734,000 in Q3 '23, reflecting the growth of a game that we license from a third party.
"Our expenses increased year over year due to several factors. Cost of sales and sales commissions increased by almost $200,000, largely related to the perpetual license revenue in Q3 '23. Compensation costs increased by approximately $236,000 due to headcount and salary increases which were offset by $103,000 decrease in share-based compensation expense. Legal and regulatory expenses increased due to our continuing efforts to protect our IP worldwide and to increased jurisdictional filings in connection with our EZ Baccarat distribution agreement. Finally, our allowance for doubtful accounts increased by $107,000 in Q3 '23 as compared to Q3 '22, principally related to financial uncertainties affecting a single customer in the state of Washington.
"Our cash position declined as we purchased over $1m in equipment to fulfill demand for GoS and EZ Baccarat placements, we prepaid $644,000 in royalty expenses, and cash interest paid on principal payments exceeded Adjusted EBITDA by $413,000" Hagerty continued. "Our loan from Fortress Credit Corp. requires our net leverage not to exceed 6.0x at any of the quarter-ends in 2023, and at the end of Q3 we were at 3.7x, comfortably in compliance. It remains our intention to reduce our net leverage and to pursue refinancing opportunities.
"With respect to the fourth quarter of fiscal 2023, we are forecasting revenue in a range of $7.0-$7.5m and Adjusted EBITDA in a range of $2.8-$3.2m. This forecast assumes around $200,000 in perpetual license sales and around $800,000 in net revenues from EZ Baccarat distribution. This forecast assumes no impact to our business from the wars in Ukraine and the Middle East, and no economic recession. Finally, the forecast is based on currency exchange rates that we experienced in the third quarter."