By
Phil
- 8 April 2020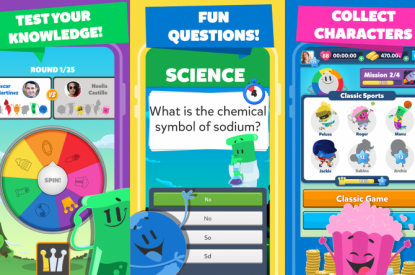 GameCo, creator of the world's first Video Game Gambling Machine, has announced a licensing partnership with Etermax, the international technology company leader in social gaming, around its smash hit trivia game, Trivia Crack.
Trivia Crack is the international sensation of trivia games that captivated gamers all over the world, accumulating more than 500m downloads thanks to its challenging and fun trivia puzzles. Since its launch, Trivia Crack remains atop the charts, reaching the #1 spot for trivia games in the US, Canada, Mexico, Brazil and over 125 other countries across both iOS and Android. The games are available in more than 180 countries and 34 languages, and across multiple platforms, including Google Assistant and Amazon Alexa.
GameCo's Trivia Crack Video Game Gambling Machines are expected make their debut in late 2020, bringing its challenging and fun trivia game to casino floors across the country. Similar to the mobile game, players will spin a wheel, which is split up into trivia categories like Arts, Science, Sports, Entertainment, Geography and History, with the objective to obtain all six characters on the wheel by answering the questions correctly. GameCo's Trivia Crack VGM will also feature competitive esports-style tournaments with GameCo's proprietary Multiplayer Arena technology.
"Etermax's Trivia Crack is one of the most popular trivia games in the world and we're thrilled to bring fans a brand-new way to play it at casinos, in a challenging trivia experience where they can earn real cash," said Rich Maryyanek, Global Business Development at GameCo. "We are always looking to bring new experiences to casino players, and a trivia based game where you can play solo, head-to-head, or take part in tournaments allows people to test their wit like never before while having a chance to win big money!"
GameCo invented and pioneered Video Game Gambling, which combines video games with gambling to allow a player's skill to impact the payout and winnings while maintaining the same casino economics as slot machines.
This announcement comes after GameCo's successful reveal of its vision for "The New Casino" including several new games, products, and technologies at G2E 2019. GameCo unveiled the Multiplayer Arena™, featuring games which bring esports-style tournaments and head-to-head competitions to the casino floor, GamersEdge technology in a variety of new games like Terminator 2: Judgment Day, and SOULCALIBUR II Casino Edition, as well as new Katana and Impulse! Cabinets. The Trivia Crack deal was brokered by Striker Entertainment, the worldwide licensing agency on behalf of Etermax and the Trivia Crack brand and Mix Licensing Group on behalf of GameCo LLC.