By
Phil
- 26 September 2017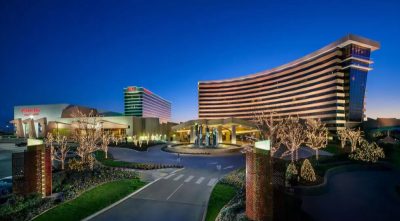 GameCo has deployed eight VGM units at the Choctaw Casino & Resort in Durant, OK, representing the company's first VGM placements in the second largest electronic game market in the US.
The installed VGMs feature three unique skill-based gaming experiences with the three original GameCo titles located in high traffic, prominent locations on the casino floor.
Appealing to casual gamers and current slot players alike, Pharaoh's Secret Temple is a Match3 game in which players embark on an adventure to unlock the riches of the Pharaoh's secret. For sports enthusiasts, Nothin' but Net offers players the challenge to hit the basketball court with 12 shots to win big cash. Appealing to the "core" gamer, Danger Arena is a first-person action game where players fight Danger-Bots in a game lasting 45 seconds.
"We are very excited to be entering the Oklahoma tribal gaming market with the Choctaw Nation as the launch partner as they share our passion for bringing unique gaming entertainment options to their players, including the innovative experiences our skill-based video game gambling games offer," said Blaine Graboyes, co-founder and CEO of GameCo.
"These initial placements reflect the ongoing progress we are achieving in our expansion into new domestic gaming markets as we are now live with games in 4 U.S. jurisdictions. Casino operators are increasingly focused on opportunities for incremental revenue and our VGMs allow them to not only differentiate their casino floors, but to better engage with players in new demographics to deliver incremental revenue opportunities across their properties."
As the only AAA Four Diamond rated hotel in Southeastern Oklahoma, Choctaw Casino & Resort – Durant offers a sophisticated level of hospitality reflected through the unique culture of the Choctaw Nation. The resort is the second largest in the state and has more than 200,000 square feet of casino space, 4,300 slot machines, 776 hotel rooms, 3,000 seat entertainment venue hosting the top acts in the country, a world-renown spa as well as an entertainment area consisting of a bowling alley, laser tag, arcade and cinema.
"The Choctaw Nation has always focused on enhancing the experience of our guests by offering superior customer service and creating a highly interactive, personalized and dynamic gaming experience. To that end, we are pleased to partner with GameCo as we look to provide our guests with the latest and most attractive gaming options that will elevate the level of entertainment and value they enjoy across our properties," said Skyelar Perkins, Sr. Director of Slot Operations. "In addition, GameCo's new skill-based gaming products will enable us to further engage with guests who are seeking a more interactive and immersive gaming experience – a key focus of ours as we look for new revenue streams."
GameCo's proprietary video game gambling platform is approved by Gaming Laboratories International (GLI), the industry's leading testing and compliance certification agency, under the GLI-11 v 2.1 standard, providing a clear path to market in most jurisdictions that currently operate electronic poker or blackjack machines.