By
Phil
- 31 August 2023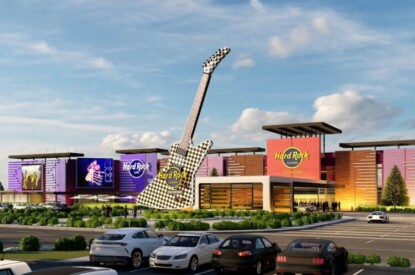 Gaming and Leisure Properties has bought the land associated with the Hard Rock Casino Rockford development project in Illinois from an affiliate of 815 Entertainment for $100m.
Simultaneous with the land acquisition, GLPI entered into a ground lease with 815 Entertainment for a 99-year term. The initial annual rent for the ground lease is $8m, subject to fixed two per cent annual escalation beginning with the lease's first anniversary and for the entirety of its term.
In addition to the ground lease, GLPI has also committed to providing up to $150m of development funding via a senior secured delayed draw term loan, subject to regulatory review. Any borrowings under the senior secured delayed draw term loan will be subject to an interest rate of 10 per cent. The term loan has a draw period of up to one-year and a maximum outstanding period of up to six years (five-year initial term with a one-year extension). The term loan is prepayable without penalty following the opening of the Hard Rock Casino in Rockford, IL, which is expected in September 2024. The term loan advances will be subject to typical construction lending terms and conditions.
In conjunction with the foregoing transactions, GLPI will receive a right of first refusal on the building improvements of the Hard Rock Casino in Rockford, IL if there is a future decision to sell them once completed.
Primely located just off Interstate 90 in Rockford, IL, The Hard Rock Casino in Rockford, IL will consist of approximately 177,000 sq. ft. featuring an approximate 60,000 sq. ft. gaming floor, initially with 1,250 slot machines, 50 table games, and in-person and online sportsbooks in the US's second largest sports wagering market. The project is currently under construction, with a total projected budget of approximately $358m, inclusive of the temporary facility, with approximately $120m spent to date.
Peter Carlino, GLPI's Chairman and CEO, commented, "Our agreements with 815 Entertainment will allow GLPI to expand its footprint with the addition of a new ground lease, a new tenant, and a commitment to provide potential funding. We believe this is an attractive ground lease transaction for our shareholders as the strong initial results at 815 Entertainment's temporary facility demonstrate the strength of the location and the depth of the market. The Hard Rock brand is world renown and will support and solidify the new casino's position as a tourist destination and entertainment venue. Hard Rock is the property manager and an equity investor in 815 Entertainment, bringing its world-class management team to the project. The overall transaction structure makes $250m available to 815 Entertainment to invest in the project and reflects GLPI's creativity in crafting a comprehensive construction financing solution. We look forward to our relationship with 815 Entertainment."
"Hard Rock's incredible financial strength and development trajectory is only made stronger with great partners like GLPI and 815 Entertainment," said Jon Lucas, Chief Operating Officer for Hard Rock International. "We are really looking forward to opening another world-class entertainment property with Hard Rock Casino Rockford."