By
Phil
- 11 July 2022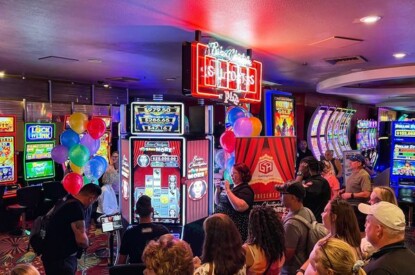 YouTube personality Brian Christopher has now launched his slot machine, Pop'N Pays More, at the Plaza in Las Vegas, with the first bit of play livestreamed to 1,000s of subscribers via a mobile phone.
Pop'N Pays More, featuring the internet star's likeness was launched in conjunction by Gaming Arts, a Las Vegas-based manufacturer and features Christopher's likeness. Three new slot machines were installed in Christopher's section of the casino. Christopher has partnered with Plaza on other casino projects for years.
The game has been featured on Gaming Arts' beautiful new VertX Grand 49″ portrait cabinet and will display his likeness, well-known catchphrases, and some of his favorite gaming graphics along with a fully customized and immersive soundtrack. This game promises to bring gaming fun to a whole other level – not only for Brian's superfans, the "Rudies", but for all slot lovers everywhere.
Gaming Arts COO, Jean Venneman commented: "Gaming Arts is delighted to partner with Brian Christopher Slots in the first- ever collaboration of this type. This game is as groundbreaking as it is fun, combining our proven successful brand with the one-of-a-kind influencer, Mr. Brian Christopher. We cannot wait to release it and have our customers' players experience all of the amazing features and surprises it has to offer," Venneman concluded.
Brian Christopher added, "For years, my fans have been begging for a Brian Christopher themed slot machine and I never imagined that day would actually come! We are confident in its success as our followers have watched our videos over 700 Million times, and they travel long distances to join me at our many casino events across the country. Without them even realizing it, they have been letting us know what kinds of features they would like in the game. Pop'N Pays™ has been a favorite of ours so working with Gaming Arts is a natural fit, and one that I know our millions of viewers and fans will love!"
Gaming Arts CEO Mike Dreitzer commented: "As a slot manufacturer, we keep our ear to the ground and see what's going on out there. We were very impressed by the remarkable popularity of Brian and his legion of fans, and he's a triumph. This market is very competitive. We're obviously looking for ways to bring interesting value to buyers. They want good content and it's always getting better and better. We thought that this was a great way, given where social media is."
Plaza CEO Jonathan Jossel said: "I think it's important to adapt with the time and social media, YouTubers are very important features in today's society. Nobody isn't taking pictures of everything that they see, so why deny that? Obviously, you have to follow game protection, you have to respect people's privacy. But as long as you're doing it within your own space, we want to encourage it and embrace it. That's what we do."
Pop'N Pays More will be rolled out to several more casinos shortly, including M Resort and Palms in Las Vegas and casinos in Arizona, Oklahoma and Minnesota.
Brian Christopher is the top social media influencer for slot machines and casinos worldwide. He hosts the #1 Slot Channel on Facebook and YouTube, attracting over 5.1 million monthly unique viewers and a loyal following of more than 1.3 million subscribers in the United States and globally.