By
Phil
- 4 April 2016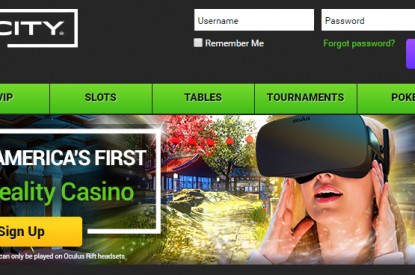 GameAccount Network has launched a Virtual Reality Simulated Gaming application for GAN's first continuing US client; New York's Empire City Casino, compatible with suitable home personal computer's and Facebook's Oculus Rift VR headsets.
VR is an emerging platform for online entertainment with Facebook's Oculus Rift VR headsets now shipping to consumers. GAN is positioned at the forefront of this emerging market, offering a unique VR experience to patrons of land-based US casino clients.
Dermot Smurfit, CEO of GAN, said: "Virtual reality has finally arrived and GAN is first-to-market in the US with a VR casino experience delivered to Empire City Casino in New York. Designed to engage, captivate and compel incremental time-on-device and revenue from patrons, GAN's VR add-on module for Simulated Gaming is anticipated to attract the 30-54year old male gaming enthusiast, likely to be among the early adopters of PC VR.
Simulated Gaming now supports Desktop Web, Mobile Web, Mobile App and PC VR, reinforcing GAN's technical leadership in delivering enterprise-grade Internet gaming solutions to the US casino Industry. Innovations like VR are just one of the many reasons ten major US casino operators have adopted Simulated Gaming, as an alternative to launching a traditional Social Casino.
Later this year, GAN will be bringing VR to life for real money Regulated Gaming in selected markets and with preferred operator clients. Playing authentic casino games in VR for real money will dramatically close the gap between the live gaming experience available on-property and the flat two-dimensional experience available at home on traditional personal computer or mobile devices.
Dismissing consumer VR is naïve – technology investors poured nearly two billion dollars into the AR/VR space last year alone and last month 15,000 units of the $800 HTC Vive VR headset were sold online in the first 10 minutes. There's a movement afoot, originating from Facebook's 2014 $2bn acquisition of Oculus, suggesting VR could be the next major Internet platform. GAN together with its US casino operator clients are positioned to materially benefit in the event forecasts for VR headset sales meet reality in the current business cycle."
US casino patrons playing online with New York's Empire City Casino can now download, install and experience the Empire City VR Casino, bringing Simulated Gaming and selected Class III slot machine games to life in VR.
GAN has the unique GameSTACK technical platform for Internet gaming, which has enabled GAN to deliver a compelling Simulated Gaming experience in VR for GAN's land-based US casino clients seeking to engage with new patron demographics.
They can play authentic US-recognisable Class III slot machines online in VR from Incredible Technologies, including Crazy Money, Medusa: The Quest of Perseus, Leonidas: King of the Spartans and Neon City Casino together with GAN's multi-hand blackjack, DEQ's EZ Baccarat and two additional slot titles from Slots Symphony.