By
Lewis
- 23 May 2014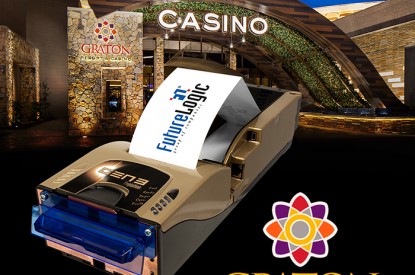 FutureLogic's GEN3 Evolution printer has been selected for all 3,000 slot and video poker machines by the new Graton Resort & Casino, which opened recently in Rohnert Park, CA.
A short drive north from San Francisco's Golden Gate Bridge, Graton Resort & Casino is Sonoma County's newest full-amenity gaming resort with a high-energy casino floor featuring 3,000 slots equipped with FutureLogic's GEN3 Evolution advanced promotional couponing and TITO printer. "We have a long history with FutureLogic's products, service and support team. FutureLogic's excellent track record for product reliability, innovation and responsive technical support team was a key decision-making factor for us," said Roger Pettersson, Corporate Vice President of Slots at Station Casinos.
The GEN3 Evolution printer is the latest generation of thermal ticket and promotional couponing printer from FutureLogic. The printer is equipped with the industry's largest standard paper capacity of 450 tickets, saving operators up to 30 refills or $300 per printer annually. Further reducing costs, FutureLogic printers eliminate paper waste by taking the ticket stack down to the last ticket.
Operators can easily update firmware in a flash, by simply connecting a pre-loaded thumb drive to a printer while it's still in the slot machine, yielding a significantly reduced down time for each and every slot machine on the casino floor. Moreover, at up to eight inches per second, the GEN3 Evolution printer is also the fastest printer in gaming, printing and presenting a ticket/coupon in less than one second. Designed with promotional couponing in mind, the GEN3 Evolution printer offers an optional on-board promotional system module that creates separate and secure processing environments for both TITO and promotional couponing. This optional module also makes precision grayscale printing a possibility through an advance temperature control technology, yielding the highest resolution output for printing eye-catching promotional coupons.