By
Phil
- 15 August 2019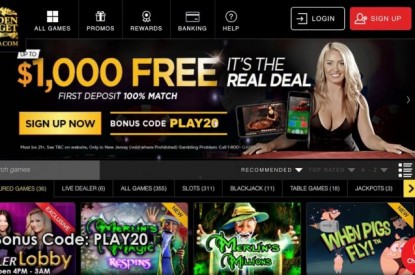 The July 2019 Total Gaming Revenue Results from the New Jersey Division of Gaming Enforcement showed that total gaming revenue for the state in July was $334.4m, up 10.7 per cent from July 2018, with online gaming reaping the majority of revenue at $316.5m, and sports betting totalling $3.8m. In comparison to last year, online gaming revenue increased 51.8 per cent since July 2018.
The industry's total gaming revenue year-to-date was $1.925bn compared to $1.563bn in July of 2018, an increase of 23%. The addition of legalised sports betting in New Jersey since mid-2018 has spurred the overall gaming revenue increase.
Nearly 85 per cent of sports bets were placed by mobile in the state in July.
New Jersey brought in $28m from gaming taxes in July, and sports betting brought in $4.5m in taxes.
The increase, which came mostly from the sports industry, wasn't completely unexpected. Operators realized a $6.97m increase in online sports betting revenue in total, which came on the heels of strong action from baseball, golf and international soccer competition.
When it comes to the best online casinos in New Jersey, Golden Nugget Online and its group of high-profile operators still hold a massive revenue lead that has expanded again into another month. It dominated the competition once again with a new record-breaking month, tallying $14.89m in total online casino revenue in July and reaching over $93.5min year-to-date revenue.
In second was Resorts Digital Gaming, which houses the likes of DraftKings, Resorts Casino, and BetStars (soon to become FoxBet). Resorts Digital generated $6.24m in online casino revenue to put itself over $43.5min earnings for the year. In third was Borgata Online Casino, which earned $5.92m to record its best casino revenue month to this point. The NJ online casino market as a whole recorded its second-best revenue month ever with total online casino revenues of $37.43m.
New Jersey online gambling operators report revenues in the following three categories: $37.43m in gross online casino gaming win, $13.91m in gross online sports betting win and $1.89min gross online poker gaming win
While the summer is usually the slow time of the year, online casino and sports betting sites in New Jersey managed an uptick in both areas, especially on the sports front.
"The industry experiencing an upswing during July is pretty exciting," said Rich Migliorisi, Managing Editor at BonusSeeker.com. "Football season in the fall was always going to ramp up action and revenue numbers, but for that process to kick-start in the summer without as many sports to bet on is an encouraging sign."
If the NJ DGE numbers from July 2019 are any indication, the gambling industry in the Garden State is in for a strong close to the summer and could be in for a massive final few months of 2019.
Jeff Ifrah, founder of iDEA Growth, a trade association representing all sectors of the online gaming, said: "As we've seen consistently in New Jersey – month-after-month and year-after-year – iGaming continues to be a major revenue driver in the state of New Jersey since its launch in 2013. Offering the full suite of online gaming, including poker, casino and sports betting, is the smartest business move for states to maximize revenue and create jobs. It also provides important consumer protections by offering gamers secure and regulated gaming options."
"Online sports betting is clearly the driving force in New Jersey's sports betting market, and definitely more so than what has historically been the case in Nevada," said Dustin Gouker, lead sports betting analyst for PlayNJ.com. "In fact, the online product in New Jersey is the key difference that has the state competing with Nevada as the country's most lucrative legal sports betting jurisdiction."
"If there is any trouble on the horizon for New Jersey, it's the launch and expansion of online sportsbooks in Pennsylvania," Gouker said. "So far, New Jersey has proven resilient in the face of competition from its neighboring state. But with football season kicking off in August, Pennsylvania's effect on New Jersey will be interesting."
FanDuel Sportsbook/PointsBet continues to lead the online market, generating $7.3m in gross revenue in July, up from $2.7m in June. And FanDuel Sportsbook at The Meadowlands remained the retail leader, posting $1.8m in July gross revenue, up from $1.7m in June.
"FanDuel's ascension to the market lead in both the online and retail market shows the power of the online marketplace and name recognition," Mr. Gouker said. "This has been the primary advantage for both FanDuel and DraftKings."
The growth in online casino games and poker has been dramatic, generating $256.8 million so far this year. That is up 55% from the $165.4 million the industry generated in the first seven months of 2018.
"Online casino games have received a boost from the proliferation of online sports betting in New Jersey," said Eric Ramsey, online gambling analyst for PlayNJ.com. "Together they have helped accelerate the development of both industries, even while the retail market has made gains."