By
Phil
- 19 June 2023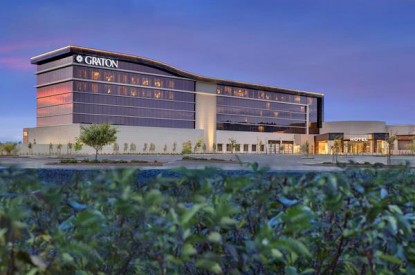 Graton Resort & Casino, the Bay Area's premier gaming destination, hosted a groundbreaking ceremony yesterday to celebrate the expansion of the Rohnert Park resort. A new parking structure with solar panels will begin construction tomorrow. Projects, including an additional hotel wing and expanded casino floor, are slated for future development.
The expansion of the property will employ 2,000 temporary construction jobs and 600 new Graton Resort & Casino team members. Graton Resort & Casino is already one of Sonoma County's largest private employers.
The casino floor expansion will add approximately 144,000 square feet, adding 2,000 new slot machines, a new poker room, and a new high-limit area.
The $1bn expansion project will also includea new five-story hotel wing with over 200 rooms, a 28,000 square-foot rooftop restaurant with indoor and outdoor seating for 480 guests, a five-level parking structure with solar panels and EV charging stations and 3,500-seat theater.
"This is an exciting day, and we're thrilled to begin construction," said Federated Indians of Graton Rancheria Tribal Chairman Sarris. "The expansion reflects our consistent mission to provide the highest quality guest experience at Graton Resort & Casino. We've been working on these plans for several years, and we're excited to create new job opportunities here in Sonoma County."
The project's architect is Bergman Walls & Associates. The project developer is ECL Development LLC, and the general contractor is SMC Contracting, Inc.