By
Phil
- 8 December 2022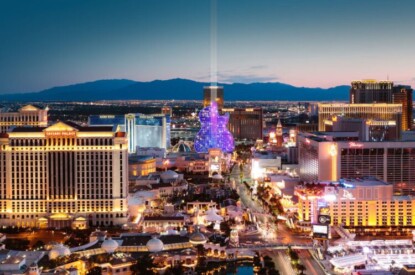 Hard Rock CEO Jim Allen has vowed to 'completely rebuild every inch of the public areas' as it overhauls the Mirage casino into a guitar-shaped hotel on the Las Vegas Strip.
The slot intake at the new casino will increase from 800 to 2,000 slots with table games increasing from about 50 to 160. Hard Rock will also add around 600 hotel rooms taking the total from 3,000 to 3,600 rooms.
Speaking before the Nevada Gaming Control Board as the deal nears approval, Mr Allen said: "We like to do things big. It is our intention, subject to approval, to build an all-suites guitar-shaped building, very similar to what we did in South Florida. We think this becomes another icon for the Las Vegas Strip skyline."
The guitar hotel at the Seminole Hard Rock in Hollywood is 450 feet tall with LED lights built providing light shows to music. Having bought the Mirage from MGM Resorts International last year for $1.075bn cash transaction. The property will eventually be rebranded as the Hard Rock.
Mr Allen added: "We will completely rebuild it, every inch of the public areas."
Hard Rock executives now need to detail their plans to the Nevada Gaming Commission before the deal can be greenlit. Hard Rock will operate the Mirage as it is for at least a year and a half.
With regards to reports that Mirage would close, Hard Rock stated: "There are no current plans to cease operation of The Mirage and any reporting to the contrary is inaccurate. The Nevada Gaming Control Board unanimously recommended to the Nevada Gaming Commission that it approve Hard Rock International's licensure and acquisition of The Mirage Hotel & Casino.
"This marks another milestone in a year's long process as Hard Rock International seeks all appropriate regulatory approvals in the closing of this historic transaction. Contrary to news reports from Las Vegas media this morning, there are no plans at this time to close The Mirage. In fact, in response to a direct question during the December 7 Nevada Gaming Control Board Meeting about whether or not Hard Rock plans to close the property, Chairman James Allen specifically stated, "We do not have definitive plans to close the property at this time, but for full transparency, that could be an option a year and a half down the road," it added.
"Future plans for transforming The Mirage into the Hard Rock Hotel & Casino Las Vegas are being developed. More news on our development plans are expected to be released in late 2023."