By
Phil
- 5 April 2019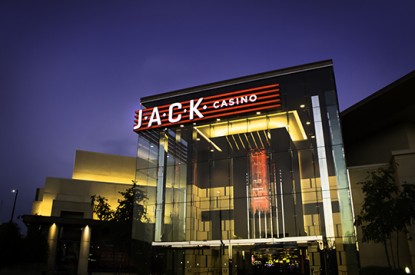 Caesars Entertainment, via its VICI Properties spin-off, is partnering with Hard Rock International to buy the Jack Cincinnati Casino and and Turfway Park for $780m.
Through the joint purchase, Hard Rock will acquire the operating assets of the casino, rebranding it Hard Rock Casino Cincinnati, while VICI will own the land and real estate assets. VICI will simultaneously enter into a favourable triple-net leased fee agreement with Hard Rock International. Hard Rock International will be responsible for the operations at both properties.
"Hard Rock has been the number one operator in Ohio since opening in the greater Cleveland market in 2013," said Jim Allen, chairman and CEO of Hard Rock International. "And now, we look forward to introducing our unique brand of casino entertainment to Cincinnati. On behalf of the 40,000 Hard Rock team members worldwide, I am pleased to welcome the more than 1,000 JACK Cincinnati employees into the Hard Rock family."
JACK Cincinnati is situated on 22 acres in the Broadway Commons area of downtown Cincinnati. The property features 100,000 square feet of gaming space with approximately 1,800 gaming machines and 100 table games. Additionally, the property contains 33,000 square feet of meeting space, six high-quality restaurants and two bars. New property improvements will be announced by Hard Rock later this year.
"We are proud to partner with Hard Rock, further diversifying our tenant roster with an international leader in gaming, entertainment and hospitality experiences and a renowned global platform of 245 hospitality venues across 75 countries," said John Payne, president and chief operating officer of VICI Properties.
Matt Cullen, Chief Executive Officer of JACK Entertainment, added: "We viewed the gaming industry as a catalyst for economic development in our local communities. After ten years, hundreds of millions of dollars of investment developing JACK Cincinnati Casino from the ground up, and establishing a strong customer focused culture, we have successfully positioned JACK Cincinnati Casino for further future success. We are confident that Hard Rock and its world-renowned brand will be a great addition to the Queen City and the right choice to take JACK Cincinnati Casino and Turfway Park to the next level of growth. We chose to sell to Hard Rock, in large part, due to its great culture and quality of its leadership. They are an outstanding operator that JACK Cincinnati Casino and Turfway Park team members will enjoy working with as they continue to deliver excellent service to our guests."
The casino had another record-breaking year with $203.5 million in adjusted gross gaming revenue and reached significant milestones in 2018.
The transaction, which is expected to be finalized sometime in late 2019, requires regulatory approval, both at the federal and state levels.