By
Phil
- 18 April 2016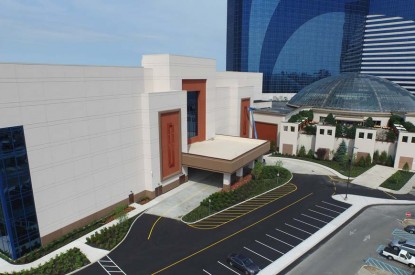 Since its grand opening six months ago, the Harrah's Atlantic City Waterfront Conference Center has nearly doubled its booked meetings and conventions through 2019 and expects to bring nearly 300,000 conference attendees to Atlantic City.
Total room nights booked are currently at almost 200,000 – up from 140,000 in September 2015. Harrah's Atlantic City is an indirect subsidiary of Caesars Entertainment.
"In a short period of time, the Waterfront Conference Center has accomplished more than we ever hoped for when we first opened the doors," said Michael Massari, Caesars Entertainment's Senior Vice President of National Meetings and Events. "This facility has finally given meeting planners an option in the Northeast with the large space, flexibility and functionality necessary to elevate the quality of their meetings. The Waterfront Conference Center has filled a void in the market and put Atlantic City on the map as a premier destination for meetings and conventions."
In September 2015, the Waterfront Conference Center, which includes more than 100,000 square feet of conference space within a 2,590 room hotel, promised to attract a new type of customer to the city and significantly increase hotel occupancy throughout the year. Today, the conference center is attracting companies to hold their meetings in Atlantic City from other top meetings and conventions destinations across the United States, and giving them a new reason to choose Atlantic City.
"We are seeing organizations that typically book in convention destinations like Orlando and Las Vegas now considering and coming to Atlantic City as a result of the Harrah's Waterfront Conference Center," said Jim Wood, president and CEO of Meet AC. "This validates the center as not only a major player in the Northeast, but in the national meetings business."
In addition to new business, several companies are already rebooking after holding their first conference in Atlantic City in 2015. The center is responding to this high demand by continuing to evolve and expand its already state-of-the-art offerings, which includes the recent additions of an executive boardroom and a Business Center.
"We heard a lot of excitement around the Waterfront Conference Center when it opened, and we're really excited to see that translate into bookings that bring new customers to Atlantic City," said Massari. "I'm confident that the Waterfront Conference Center will continue to be a game-changer for the meetings industry, grow non-gaming revenue and breathe new life into Atlantic City."