By
Phil
- 2 April 2019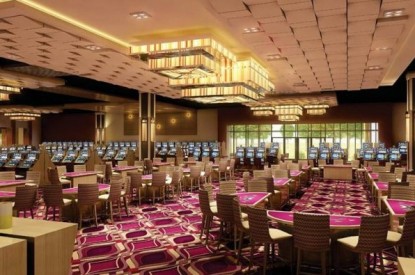 Harrah's Northern California will hold its grand opening weekend in Amador County on Friday, May 17 through Sunday, May 19.
Long known for its sumptuous collection of vineyards and scenic vistas, Amador County visitors will have yet one more reason to visit the region when Harrah's Northern California welcomes guests to the 71,000 square-foot casino entertainment destination. Construction of the property began in April 2018. Upon completion, the casino will feature 950 slot machines, 20 table games, one full-service restaurant and three fast-casual dining concepts. While Harrah's Northern California guests will benefit from the perks of the casino's affiliation with Caesars Entertainment's award-winning loyalty program, Caesars Rewards, the real winner to benefit from the casino's construction may be the Amador County economy.
Several local contractors have been awarded jobs related to the casino's development, which at its peak boasted more than 100 construction positions filled with area talent including Ione, Jackson, Plymouth, Valley Springs, Lodi, Stockton, Manteca and Modesto. In addition, Amador County businesses not affiliated with the casino, such as local hotels and restaurants, have seen an uptick in revenues resulting from an increase in traffic related to the project.
While progress on the property's construction continues, the team has also been working furiously to fill more than 400 full-time roles to support the casino once open. Positions include table games dealers, slot attendants, security, environmental services technicians, facilities maintenance, events and marketing staff, cooks, servers, bartenders, valet attendants and more. More than 80 percent of current hires hail from Amador County and immediate surrounding counties. Additionally, Harrah's Northern California is establishing long-term partnerships with local hotels, vintners and growers to highlight the bounty of locally sourced products available to guests at the property.
Beyond the positive economic impact the development is creating for local businesses, casino developers have made significant contributions toward community improvement projects including roadway enhancements, traffic mitigation efforts and a $100,000 contribution toward the Amador County School District. Led by the Buena Vista Tribe of Me-Wuk Indians, casino contributions to the community also include enhancement of the area's fire protection services through the establishment of a new station and increased support of emergency medical services. By the time Harrah's Northern California opens later this spring, more than $20 million will have been gifted to the community for improvements such as fire protection, police, schools, highways and roadways, emergency medical services, and an annual donation for "community projects" in excess of one million per year as a result of the casino's development.