By
Phil
- 1 April 2014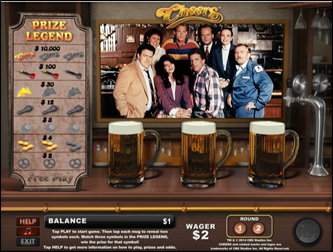 From March 31, Idaho Lottery players will be able to play a Tapp It! interactive touch screen game branded on the hit TV show, Cheers and developed by Intralot.
A collaboration between the Idaho Lottery, Alchemy3, and Intralot, has paved the way for the Cheers branded game that will offer players a fun and exciting way to win prizes instantly.
Available at select age-controlled Idaho Lottery retailers, Cheers can be played via the Play Center self-service machine. Each game costs US$2 and gives players six chances to win up to $10,000. Bonus Rounds offer additional chances to win prizes and free plays.
Jeffrey Schweig, Alchemy3's President, said: "We are thrilled to offer lottery players a gaming experience like never before. The digital Cheers game incorporates actual audio/visual clips from the show allowing us to bring the brand to life and attract a new group of players."
John Pittman, Vice President, Marketing of Intralot USA, said: "After a soft launch of Tapp It! or 'TAP Scratch' as it is being marketed to Idaho players, in Idaho last July, this game with its iconic brand is a great way to introduce the product line to new players. Cheers not only offers great prizes and odds, but the entertainment proposition embodies the essence of our Tapp It! library, which now offers over 100 quick-play interactive games. We look forward to the game launch in Idaho as well as offering the game to our other partner lotteries."