By
Phil
- 17 January 2013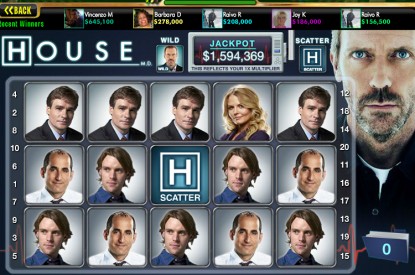 IGT is to feature House M.D. Slots in its DoubleDown Casino for Facebook.
The game, based on the American television medical drama featuring Hugh Laurie, was developed through a license deal with Universal Partnerships & Licensing and NBCUniversal Television Consumer Products.
House fans get their fix with the new game that features the irreverent nature of the show, captured in an easy, free-to-play, DoubleDown Casino slot game.  Fans of the show are treated to Dr. Gregory House's witticisms as well as the cast of characters including Dr. Robert Chase, Drs. Cameron, Wilson, Foreman, as well as Thirteen.
"Many of us on the DoubleDown team were already fans of House, we used our experience to create a game that other fans were sure to enjoy," said Greg Enell, vice president of social gaming at IGT. "Social gamers will also appreciate the classic slot action and double bonus rounds in this dynamic entertainment experience that players have come to expect from DoubleDown Casino."
DoubleDown Casino fans can enjoy the fun gameplay of this new slot game and spin their way to a winning diagnosis. House on DoubleDown Casino features iconic images from the show, free spins, bonus rounds and more, including free Spins triggered by getting three cane symbols with five spins available on Dr. House's reels.  Another bonus sees players pick their three favourite diagnoses from among 13 show classics. As part of House's team, players review patient files containing the team's most puzzling cases. Collecting two files at once triggers the bonus round.