By
Phil
- 10 October 2022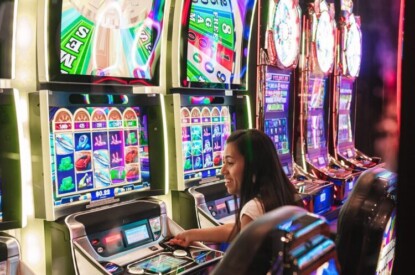 International Game Technology PLC announced the launch of the Wheel of Fortune Slots Zone at the OYO Hotel & Casino Las Vegas.
The casino houses a dozen of IGT's premium Wheel of Fortune slots games in an energizing environment synonymous with the popular theme. Standout game titles include the animated Wheel of Fortune 4D Collector's Edition and Wheel of Fortune Cash Link 2 video slots. The zo*/ne also features IGT's largest cabinet to date, the Wheel of Fortune Megatower, while a bank of IGT's attention-grabbing PeakSlant49 cabinets can host exciting Wheel of Fortune Spin & Win Tournaments.
"OYO Hotel & Casino Las Vegas is thrilled to present the most exciting slots franchise to our guests in a unique way," said Keith Williams, Executive Director of Casino Operations at OYO Hotel & Casino Las Vegas. "Wheel of Fortune slots are renowned for their highly entertaining themes and big jackpots, and this collaboration provides us with the opportunity to deliver our guests a one-of-a-kind memorable Las Vegas gaming experience."
"IGT is excited to partner with OYO Hotel & Casino to bring another state-of-the-art Wheel of Fortune Zone to Las Vegas," said Nick Khin, IGT Chief Operating Officer, Global Gaming. "The innovative space combines the trademark Wheel of Fortune slots entertainment that players love, and a distinct environment with games that will drive play and differentiate OYO Hotel & Casino."
"IGT continues to keep the Wheel of Fortune slots portfolio fresh and relevant by introducing exciting new environments for players to enjoy the most famous slots brand of all time," said Suzanne Prete, Sony Pictures Television, EVP, Game Shows. "For more than 25 years, Wheel of Fortune slots have established a jackpot-paying legacy and IGT has propelled its industry leadership by perpetually creating compelling Wheel of Fortune slots entertainment."
Wheel of Fortune is the most successful slots theme of all time. Since the game's 1996 debut, IGT has made more than 250 variations of the player-favorite slots theme and distributed them to countries around the world. As a result, Wheel of Fortune slots have minted over 1,100 millionaires, awarded over $3.4bn in jackpot payouts, and earned dozens of accolades on the merit of attributes ranging from innovation to player affinity.