By
Phil
- 30 July 2014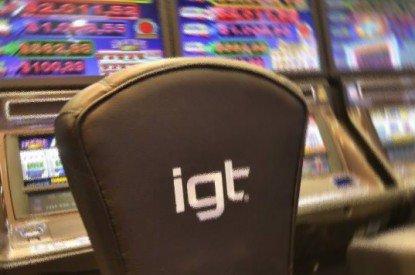 International Game Technology, who is currently being sold to GTECH for $6.4bn, saw profits increase in the third quarter despite a double-digit fall in revenue.
The slot giant brought in revenues of $467.6m, representing a fall of 19 per cent for the same period of 2013, primarily due to declines in product sales and gaming operations. Net income, however, grew 10 per cent to $72.1m, up from net income of $65.7m for the period last year.
"July saw the culmination of our process to evaluate strategic alternatives for IGT and our shareholders," said Patti Hart, IGT CEO. "We successfully balanced this effort during the third quarter with our focus on continuous improvement in our business evidenced by expanded gross margins and expected EPS performance. Our effective cost management has improved efficiencies in a challenging industry environment and has positioned us for future market opportunities."
Gross margin increased to 62 per cent from 61 per cent primarily due to mix shift to higher-margin lease operations and lower depreciation.
Installed base decreased 11 per cent driven by declines in International largely due to lease operation unit conversions and North America MegaJackpots primarily in the standalone category.
Average revenue per unit per day was $46.02, down four per cent over the prior year quarter, largely due to lower MegaJackpots performance, and down two per cent sequentially in line with seasonal trends.
Revenue decreased 36 per cent to $167m in the third quarter, primarily due to lower machine unit volume, with the most significant decrease in North America replacement units. The current quarter did not include Canadian replacement units while the prior year quarter included 3,300 Canadian replacement units. Also, the current quarter included 400 new Illinois units as compared to the prior year quarter that included 1,300 new Illinois units.
Gross margin increased to 58 per cent from 54 per cent due to a favourable mix of higher-margin intellectual property revenue.
Machine average sales price decreased 11 per cent to $11,900. North America machine average sales price increased four per cent to $12,900 primarily due to favourable product mix. International machine average sales price decreased 34 per cent largely due to a high volume of lease unit conversions.
Social gaming revenue increased 31 per cent to $205m in the first nine months and increased 17 per cent to $72m in the third quarter, driven by increases in average DAU and average bookings per DAU.
Average DAU were 1.8m, an increase of eight per cent over the prior year quarter.
Average MAU were 6m, a decrease of 10 per cent primarily due to increased focus on improving player conversion rates.
The current deal with GTECH would see IGT bought for $4.7bn in cash and stock, and assumption of $1.7bn in debt.
IGT stated: "Factors relating to the proposed merger transactions with GTECH include failure to obtain applicable regulatory or security holder approvals in a timely manner or otherwise; the possibility that the proposed transactions will not close, including by any failure to satisfy closing conditions or a termination of the merger agreement; risks that the businesses of IGT and GTECH will not be integrated successfully or that the combined companies will not realize estimated cost savings, value of certain tax assets, synergies and growth or that such benefits may take longer to realize than expected; failure to realize anticipated benefits of the combined operations of IGT and GTECH; risks relating to unanticipated costs of integration; ability to hire and retain key personnel; and the potential impact of announcement or consummation of the proposed transactions on relationships with third parties, including customers, employees and competitors."
GTECH shareholders will own 80 per cent of the new company with the De Agostini Group, which owns 59 per cent of GTECH, owning 47 per cent of the new company.
"As we have stated before, we believe the sale to GTECH is the correct move for IGT and shareholders we believe the company got a fair price considering the market environment and competitive dynamics," Eilers Research founder Todd Eilers said.