By
Phil
- 5 August 2019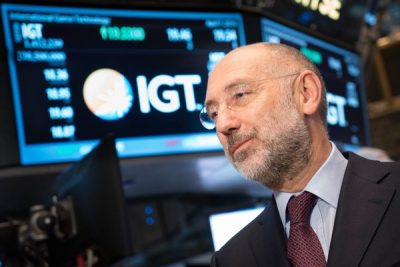 International Game Technology reported consolidated revenue of $1.23bn, up five per cent for the second quarter ended June 30, 2019.
Q2 EBITDA was the highest quarterly level IGT has achieved in the last three years.
Marco Sala, CEO of IGT,said: "This was driven by a 46 per cent increase in gaming product sales, excellent lottery performance across-the-board and profit expansion in North America and Italy. We had a strong second quarter, with top-line growth driven by a sharp increase in gaming product sales and impressive gains in global lottery same-store revenues. Profits were up nicely in our North America Gaming and Italy segments. I am pleased with the broad-based improvement in key performance indicators for our main businesses."
Mr. Sala said the big story for Q2 was the significant growth in product sales for gaming machines. Robust replacement unit demand more than compensated for less new and expansion activity worldwide. North America replacement rose 54 per cent, almost entirely to casino customers. International gaming machine units did very well, thanks to the contribution from Sweden VLTs but there were increases across all main geographies.
"This significant growth recognises the quality of the games we are bringing to market," Mr. Sala said. "There is accelerated momentum in the core video reel space which has been the most important driver, including the player acceptance of newer titles such as Fortune Coin and Griffin's Throne, in addition to sustained interest in proven performances – performers, Scarab and Ocean Magic Grand.
"We believe there is opportunity to leverage many of our popular legacy titles with innovative new gaming mechanics to drive additional growth."
The Crystal Series cabinets accounted for approximately 70 per cent of units sold in the second quarter.
"We have established strong positions in both the dual screen and portrait form factors, which maximises our total market potential," Mr. Sala explained.
Video poker is another market segment where IGT has a commanding leadership position, according to Mr. Sala.
"This is thanks to sustained investment in innovation and diversification not only for games but also with hardware. In the second quarter, we executed our third multiyear poker site license with the large commercial casino customers that included the substantial commitment to our CrystalSlant cabinet. Later this year, we will introduce a highly anticipated new bartop terminal developed with extensive customers' input that will feature both video poker and our strongest games. The diversity of hardware options enables us to drive the business forward by appealing to a multiple player segment.
With regards to premium games, IGT's objective has been to 'stabilise the installed base.'
"Over the last 10 quarters, it has been up or down two per cent. So we can safely say that we have met our goal. In the second quarter, the North America installed base was stable with the prior year and up a few hundred units sequentially on an underlying basis. The WAP arena, the Wheel of Fortune and Megabucks franchises continue to perform well. Later this quarter, we will begin rolling out a suite of games under the iconic Price is Right brand. The installed base grew by more than 400 units sequentially driven by increases in Class II markets as well as placement at Encore Boston harbor."
"We will also continue to leverage the market appetite for MultiLink progressive games, bringing new links to market over the next few quarters. We are truly confident in the quality of our existing and new games. And we feel that we are better positioned than ever to compete for our fair share of floor.
IGT recently announced a four-year contract extension to provide Colorado Lottery with a state-of-the-art lottery technology through July 2025. It also signed a two-year extension with the Ohio Lottery to provide instant ticket services through June 2021.
"Our Lottery business continues to demonstrate impressive growth. Global same-store revenue growth outside Italy was six per cent in the second quarter and five per cent in the first half of the year with increases in both North America and International segments. North America Lottery same-store revenue was up seven per cent in the second quarter supported by growth of over five per cent for instant and draw games and enhanced by increased jackpot activity."
Alberto Fornaro, CFO of IGT, added: "EBITDA in the quarter was the highest we achieved in three years and translated into substantial free cash flow for the first half. Recent capital markets activity strengthens our financial structure, enhances flexibility, and positions us well for the coming years."