By
Phil
- 13 June 2016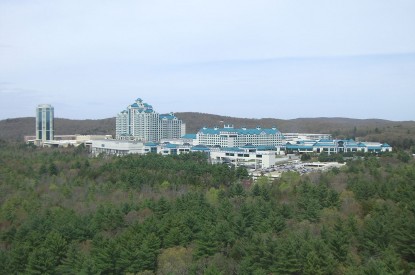 Indian gaming generated 43.5 per cent of all US casino gaming revenue in 2014, growing by approximately two per cent in 2014 to an all-time high of approximately $28.9bn.
In calendar year 2014, there were 243 Native American tribes operating nearly 352,000 gaming machines and nearly 7,800 table games in 489 gaming facilities across 28 states.
Gaming revenue at Indian gaming facilities nationwide grew 2014 was the fifth consecutive year of growth for Indian gaming.
The growth rate of non-gaming revenue at Indian gaming facilities (five per cent) was more double that of gaming revenue. There was a wide disparity in performance within Indian gaming.
Gaming revenue grew in 20 states, including double-digit growth in three states, and declined in eight states.
The top two states generated approximately 39 per cent of total gaming revenue at Indian gaming facilities; the top five states generated about 62 per cent; and the top 10 states generated 85 per cent.
Indian gaming facilities, including non-gaming operations, directly and indirectly generated approximately $95bn in output, 738,000 jobs, $32.6bn in wages, $1.7bn in federal, state, and local taxes, and $8bn in direct revenue sharing payments to federal, state, and local governments.
In 2014, the performance of the commercial casino segment was the polar opposite that of Indian gaming with a decline of approximately two per cent.
The findings come from the Indian Gaming Industry Report which provides current, unique, cutting-edge research on Indian gaming appropriate for Native American tribes, gaming companies, casino vendors, investors, regulators, federal/state/local governments, gaming analysts, industry consultants, attorneys, lobbyists, public and government affairs consultants, academics, and any individuals interested in the state of Indian gaming. The report is succinct yet thorough in its analysis and information on the state of Indian gaming today.
The Report provides nationwide and state statistics (the latter not available anywhere else) for calendar year 2014, the most current data available. Market summaries and performance metrics are provided by state. Summaries include year-over-year comparisons for gaming and non-gaming related revenue. The Report includes a directory of the 489 Indian gaming facilities that operated in the United States in 2014 along with a cross-reference listing of 243 gaming tribes and the facilities they own.
The Report also includes comparisons across states and classes of gaming, state-by-state historical perspective and trends, an examination of the reasons for Indian gaming performance, comparisons to other gaming segments, an economic impact analysis measuring Indian gaming's contribution to the US economy, and a qualitative future outlook.