By
Phil
- 19 June 2017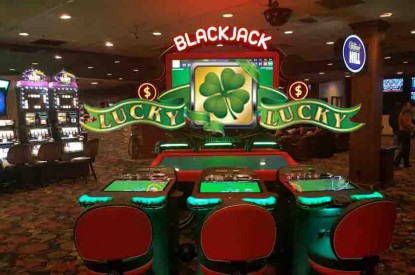 Interblock has formed a partnership with Aces Up Gaming and Seven Gaming to offer Seven Gaming LTD's Lucky Lucky side bet content across its multi-game Diamond Blackjack platforms.
Lucky Lucky is a player-popular Blackjack side bet offered on live table games.
Paul Omohundro, Vice President of Product Management at Interblock, said: "Interblock is thrilled to make Seven Gaming LTD's Lucky Lucky side bet content available to players through our Diamond Blackjack platforms. This partnership reflects our dedication to delivering a wider range of gaming content that benefits both players and operators."
Charlie Drennan, President at Aces Up Gaming, added: "The Lucky Lucky side bet is quickly becoming the premier side bet option for Blackjack tables worldwide. Currently Lucky Lucky is being played in hundreds of casinos including 23 states in the U.S, Puerto Rico, Canada, and Mexico, and agreements are in place for the Australia, New Zealand, Philippine and South American markets. The reason for its success is the ease of play, multiple pay table options for the operator, and a 24% hit frequency for the player. Aces Up Gaming Inc. and Seven Gaming LTD have also partnered to develop a state of the art progressive system that will feature the Lucky Lucky progressive game, which is in the final certification phase and will be available for play this summer."
The Lucky Lucky side bet will be offered first on Interblock's Diamond Video Blackjack game, and will later be available across other Interblock multi-game/multi-play devices. In addition to the Lucky Lucky side bet, the company will offer two additional side bets including Galaxy Gaming Inc.'s 21 + 3 and Interblock's Lucky Aces, which allow players to wager on up to three side bets at a time and feature an all-new 3-D Virtual Dealer.