By
Phil
- 20 November 2013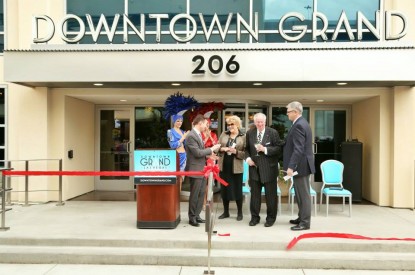 JCM Global has posted another big win, this time earning 100 per cent of the bill validator business at the recently opened Downtown Grand in Las Vegas.
JCM has won over 80 per cent of all new casino openings in North America over the past 24 months.
The Downtown Grand, operated by Fifth Street Gaming, has 600 slots, and each is protected by the powerful anti-counterfeit technology inside JCM's award-winning iVIZION bill validator. The casino's drop process is better, faster and smarter thanks to JCM's Intelligent Cash Box (ICB) system.
The iVIZION bill validator is the better, faster, smarter solution for the gaming industry. iVIZION's Contact Image Sensor (CIS) Technology captures the full image of a note or ticket, and its 99 per cent plus acceptance rate is unrivaled. iVIZION has the most diligent counterfeit protection, an RFID ICB cashbox with encrypted and web-enabled data, 64 megabit FLASH memory, a self-calibrating sensor package, modular component design, ability to read barcodes horizontally and vertically, two high-speed processors, sealed 85 mm banknote path, patented and proven removable stacker mechanism, "Blind Mate" and "Hot Swap" design and complete compatibility with all gaming protocols.
The Intelligent Cash Box (ICB) 2.5 evolves casinos' cash management and asset management. With the ICB system, casinos gain access to detailed reporting tailored to reduce variances, eliminate human error and capture transactions on the cash box. ICB 2.5 Prime Reports gives users access to web-enabled reports for anytime, anywhere detailed reporting.
Related Stories