By
Phil
- 4 October 2022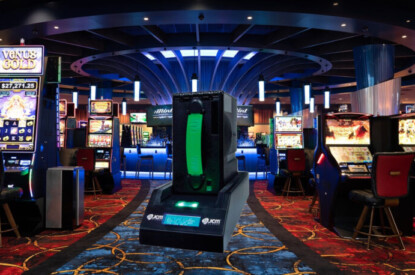 The recently opened The Mint Gaming Hall Cumberland is Kentucky's newest place for gaming action, and JCM Global (JCM) supplied its ICB Intelligent Cash Box system to enhance security and increase efficiencies.
The Mint Gaming Hall operates three properties in Kentucky, including the flagship Kentucky Downs which is the second Mint Gaming Hall property to open with JCM's ICB system in the last year. Previously JCM installed its technologies at The Mint Gaming Hall Bowling Green in December 2021.
 
"With the Intelligent Cash Box system, The Mint is getting the latest and greatest from JCM, while providing our family of properties consistency and efficiency," said Henry Graffeo, General Manager of The Mint Gaming Hall Cumberland.
 
"We are grateful to Kentucky Downs for their ongoing support and partnership," said JCM SVP of Sales, Marketing & Operations Dave Kubajak. "Working with the Kentucky Downs team, we gained greater insights into their long-term strategies, and this latest installation is a continuation of a technology roadmap we developed for their properties."
 
Field-proven to reduce drop process times by up to 60 percent, JCM's award-winning ICB is installed on more than 265,000 devices in North America. It is also proven to streamline operations, reduce variances, and boost compliance.