By
Phil
- 2 May 2023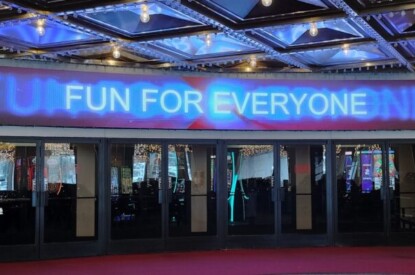 The anticipation of fun for everyone at Don Laughlin's Riverside Resort Hotel & Casino in Laughlin, Nevada, is brighter than ever with a new 30-foot outdoor display from JCM Global (JCM).
The 5.2mm DSS ELEMENTS-D measures 29'6" W x 3'8" and greets guests as they arrive in the hotel's glittering valet area. JCM also programmed content for the digital signage, providing guests with dynamically presented information about casino promotions, events, and more.
 
"Having a stunningly crisp display of promotions, food and entertainment as our guests enter is exactly what we were looking for to enhance excitement," said Diana Fuchs, Riverside Resort Director of Marketing & Entertainment. "Not only does JCM's display grab everyone's attention, it beautifies our entrance."
 
DSS ELEMENTS-D has limitless versatility with multiple angle splicing options and a flexible edge joint structure for various venues. Its brightness level makes it perfect for outdoor events, marquees, and more.
"We are delighted to provide a DSS product to Don Laughlin's Riverside Resort Hotel & Casino that will brave the elements without compromising on color fidelity and uniformity," said Dave Kubajak, SVP – Sales, Marketing, and Operations at JCM. "At JCM, we have the best selection of digital signage technologies that are flexible, modular, and configurable, for interior and exterior use."