By
Phil
- 21 April 2015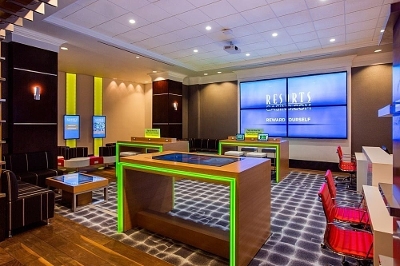 Gaming innovator KGM, together with SOSH Architects, has announced its involvement at Resorts Casino Hotel, where it recently launched the company's first KGM CONNECT gaming environment.
The immersive gaming lounge is designed to introduce traditional land-based players and the next generation of gamers to the world of online gaming.
"KGM Connect brings a captivating, interactive gaming room right into the traditional casino environment," said Jason Peters, President of KGM Gaming. "Casino operators can now tap into new and emerging markets by delivering custom content through touch-enabled tables, walls, panels, and kiosks."
The KGM Connect gaming lounge at Resorts was made possible by collaboration between two forward-thinking companies: KGM and SOSH Architects. For this project, SOSH Architects transformed a former gaming pit into an interactive social hub where customers can experience new online casino offerings from Resorts.
"We were proud to partner with KGM on this first-of-its-kind project in Atlantic City," said SOSH partner Tom Sykes. "Rapid changes in the gaming industry require massive innovation, and the KGM CONNECT environments deliver that sort of advanced thinking."
The approachable, contemporary space engages players with illuminated communal tables, custom banquette seating and an 80-screen video wall. KGM manufactured the interactive furnishings and seating to complement the SOSH-designed surroundings and keep the player experience at the forefront. Inside the KGM CONNECT lounge, players can play for fun or gamble for real money. They can even fund their online accounts through a convenient kiosk.
Jason Peters continued: "We are excited to launch this concept in our home state of New Jersey with the help of our partners at the New Jersey Division of Gaming Enforcement, who have been working with us diligently towards the continued success of online gaming here in the state."