By
Phil
- 26 January 2017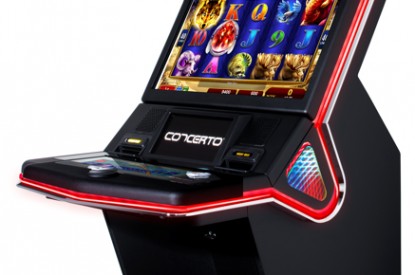 Konami Gaming has announced the release of its new Concerto Slant video slot at locations across the nation and abroad.
Backed by proven elements of the original top-performing core video slot, Konami's new slant top version of Concerto is designed to optimize the relaxed-angle posture with dual 27-inch HD cinematic displays and a comprehensive library of available games. Players can enjoy any KP3+ platform content found on Concerto upright, as well as proven KP3® platform titles such as Dragon's Law, Lotus Land, China Shores, and many more.
Joe Whitman, Director of slots at Soboba Casino, said: "We were among the first to introduce Concerto Slant to market and the response from our players has been overwhelmingly positive. The momentum we saw from the original Concerto cabinet is extending even further as players get to enjoy top themes on the slant format, with even greater performance than we saw with the debut machine."
With a focus on player comfort and convenience, Concerto Slant's relaxed angle design includes an easy-reach center spin button combined with Konami's new TouchDash touchscreen button panel. It is engineered to give players a rich, cinematic gaming experience with a feeling of relaxed control.
With digital topper removed, the Concerto Slant offers enhanced sightlines across any busy slot floor, or the topper can be added for merchandising.
"For years slant machines have been an industry staple and a sought-after favorite for players worldwide, so with our release of the new Concerto Slant we sought to provide operators the utmost value through flexible configuration options, quality reliable hardware, and a robust library of compatible base games and progressives," said Steve Walther, Senior Director, marketing & product management at Konami Gaming, Inc. "It exemplifies everything players enjoy in a slant game, with top performing themes and vibrant 27-inch HD displays to keep them engaged and entertained from the moment they sit back."