By
Phil
- 27 October 2020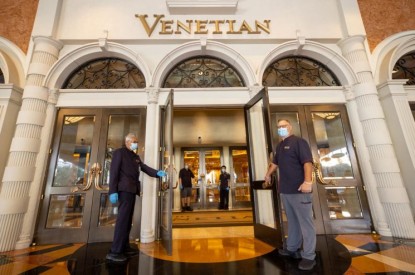 Whilst the Bank of America remains doubtful that Las Vegas Sands will complete any deal to exit the city that shares part of its name, others see a REIT (real estate investment trust) deal being of benefit to the casino giant with some definite advantages to it being a purely Asian operating force.
Las Vegas Sands has enlisted an adviser to solicit interest from potential suitors for its Las Vegas casino and hotel assets according to news service Bloomberg. Its Las Vegas portfolio, including the Venetian Resort Las Vegas, the Palazzo and the Sands Expo Convention Center, has been valued at $6bn.
Bank of America said: "While there could be some strategic merit, we are cautious on the likelihood here, at this price, given 1) limited liquidity or cash needs, 2) a dearth of potential buyers, especially for a sizable OpCo and 3) Las Vegas being the corporate center of the company. The pool of potential buyers who can write $6bn checks for any real estate asset is typically small, but post COVID and with with negative earnings today, we think it is even smaller and is coupled with much less favorable capital markets (the MGM deals mostly utilised CMBS financing)."
Other analysts believe a deal could be done under the REIT model that MGM has recently favoured as a sale and lease back deal with Bellagio, Mandalay Bay and The Mirage.
Sanford C. Bernstein analysts Vitaly Umansky, Kelsey Zhu and Tianjiao Yu commented: "While we do not know at this time if there are actual potential buyers, it is possible that any acquisition may include a REIT as a purchaser (along with either a private equity buyer or a strategic). Further it is possible that a sale may only be a sale-leaseback to a REIT with LVS retaining the LV operations. The sale-leaseback structure has been commonplace for casinos in the US for some time … while we view such transactions as largely financing in nature (replacing debt and debt service with a lease and rental payments), investors have looked favourably upon such financial engineering. However, we are not convinced that this is a structure that LVS would like to pursue (although it could be an eventual outcome)."
"If Sands were to see a buyer at a US$6bn valuation for its Las Vegas assets, we would expect LVS to likely agree to such a sale. The outcome would be both near term and long term beneficial to shareholders as it would allow for potentially higher ROI investment in Asia and/or faster return of capital to shareholders."
Morgan Stanley's Thomas Allen believes the price tag is too steep. He explained: "We are not sure how much interest from strategic buyers there might be given the high absolute price, other reportedly available assets on the Strip, and the unique positioning of the properties. However, given the potential for a cheaper OpCo price through a sale leaseback and historically relatively steady EBITDA, there could be other interest."
The question of why Sands is even considering offloading its domestic portfolio is pure speculation.
Ben Lee, a Macau-based analyst at IGamiX, said: "The growing insignificance of the US market explains to you why Las Vegas Sands is looking to offload their US properties. It is 15 per cent of revenue but 80 per cent of regulatory pain and burden."
A sale would leave Sands focused entirely on its Asian casino portfolio in Macau and Singapore. The operator shelved plans in May to compete in the tender to run an integrated resort casino in Japan.
With COVID wiping 82 per cent off the company's Q3 revenues, Chairman Sheldon Adelson, said that a "recovery process from the COVID-19 pandemic in each of our markets is now under way."
Ratings agency Fitch said the near-term outlook for Sands' Las Vegas business remained 'dim' and 'lackluster.'
But with the Macau licence re-tenderings on the horizon, it has been speculated that becoming a truly Asian-focused entity would ease any investor concerns over China/US tensions as Sands looks to cement its position in its most profitable market by far.