By
Phil
- 20 February 2017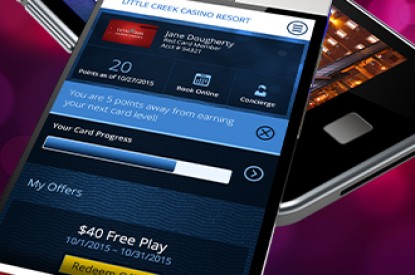 Marketing Results, a gaming industry leader in marketing and communications solutions has announced the launch of the Little Creek Casino Resort player loyalty mobile app.
The mobile app was developed by Marketing Results as a comprehensive communication solution to allow casino players to view account information and manage all aspects of their relationship with the property. The Little Creek mobile app consolidates information from the players club, direct marketing, promotional kiosks and hosts in a single resource.
The app features easy access to the casino player's point balance, tier progress and available offers. It connects the casino to their players and hotel guests on a 24/7 basis and provides an easy way to interact in real time. Players can book a hotel room, golf tee-time or a spa appointment directly from the mobile app. Little Creek Casino sends text messages, emails and push notifications directly to the players' smartphones with the mobile app.
"The mobile app provides the tools that our team needs to manage communication with our players," said Keri McElwain, Marketing Manager at Little Creek. "It allows engagement between Little Creek and our customers, making the player experience that much better."