By
Phil
- 9 September 2021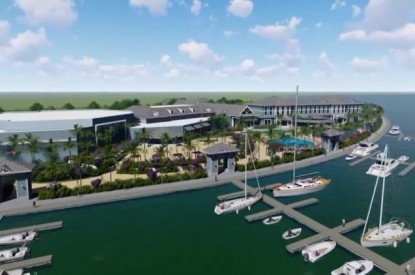 The Louisiana Gaming Control Board (LGCB) has given its blessing for Peninsula Pacific Entertainment (P2E) to relocate its Diamond Jacks casino in Bossier City to Slidell as part of a $325m development including a casino, resort, and marina dubbed Camellia Bay.
St. Tammany Parish voters will ultimately decide the casino's fate though with a referendum question during the autumn election asking if they wish to lift the ban on commercial gambling that was set in 1996. If a simple majority backs the Camellia Bay resort scheme, P2E will be cleared to move forward.
Camellia Bay's resort is planned for some 100 acres just off Interstate 10 at the Lakeshore Marina.
P2E, based in Los Angeles, asked area residents to submit names for its proposed casino complex. The company says it received more than 7,000 suggestions. Kimberly Frady, a nurse who works at the Slidell Memorial Hospital Cancer Center, received a $5,000 check from Peninsula Pacific for her winning submission. She was one of around 100 people who recommended the Camellia Bay name, which led to a drawing for the prize
Upon competition and opening will employ around 1,000 full-time workers. Along with an abundance of jobs, P2E has promised to spend $30m to construct a community athletic center adjacent to the Camelia Bay resort site on the Lakeshore Marina. Peninsula has additionally pledged $5m to help build a ring levee for the town, an unfunded infrastructure topic that has only grown in importance in wake of Ida.
Advocates of the relocation highlight that the casino, when opened in November 2023, would offer an average annual salary of $45,000 and would contribute to state coffers an estimated $33.3m each year gaming taxes with a further $9m going to local government.
Peninsula Pacific Entertainment also owns Hard Rock Hotel & Casino Sioux City, del Lago Resort & Casino in New York and Colonial Downs Group owners of the Rosie's Gaming Emporium brand.