By
Phil
- 6 May 2016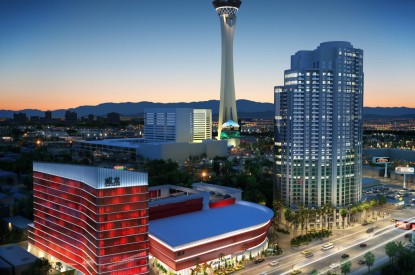 The Las Vegas Economic Impact Regional Center will open Lucky Dragon Hotel & Casino, the city's first resort delivering an authentic Asian cultural and gaming experience in late 2016.
Financial commitments provided by the Fonfa and Weidner families have guaranteed the project will be completed on schedule.
Lucky Dragon Hotel & Casino is Las Vegas' first casino resort designed from the ground up to create an authentic Asian cultural and gaming experience.
David Jacoby, Chief Operating Officer of Lucky Dragon, said: "Our principals have provided the financial commitments necessary to ensure Lucky Dragon's development remains on track for an opening later this year. As the first ground up casino development in Las Vegas in six years, the opening of Lucky Dragon Hotel & Casino will mean more options for Las Vegas visitors and locals alike. We are filling a niche in Las Vegas and we're thrilled to bring such a carefully curated array of Asian-focused gaming options, restaurants and amenities to Las Vegas."
Lucky Dragon will position itself as Las Vegas' first casino resort to deliver an authentic Asian lifestyle experience. It will be a community gathering hotspot for Asian visitors, locals and anyone looking for the best Pan-Asian food and excitement in town. The resort will feature details such as signage in Chinese first and English second, a multilingual staff and the city's only indoor/outdoor high-end tea garden and lounge. All aspects of the hotel and casino's design have been influenced by the rich traditions of Asian culture. Designed by architects Ed Vance & Associates, the project is located close to the north end of the Las Vegas Strip at 300 W. Sahara Ave. Lee Cagley Design designed the interior with consultation on cultural authenticity by Feng Shui master Lin Huang at Qi Gallery.
The resort's 27,500 square-foot casino will focus on tables games popular in Asia, such as Baccarat and Pai Gow, with only a few "Western-style" tables such as Blackjack. The gaming floor will be centered on a lively pagoda-shaped bar punctuated by a 1.25 ton glass dragon sculpture suspended from the ceiling. In addition to a high-limit gaming area called the Emerald Room, Lucky Dragon will also feature ultra-luxurious VIP gaming on the second level.
One of Lucky Dragon's key elements will be its collection of restaurants, designed to be among Las Vegas' most authentic Pan-Asian dining destinations. In addition to the below restaurants, Jewel Kitchen will be the only show kitchen in the city that extends directly onto the casino floor and will serve as the hub of Lucky Dragon's culinary action. A night market will emulate the vibrant street food markets of Asia, and will serve an ever-changing menu of dishes including regional delicacies, fresh and live seafood, dim sum, barbecue, boba tea and more for breakfast, lunch and dinner.
A dim sum restaurant will feature live exotic seafood flown in daily and will be among the finest dim sum served in North America. A fine dining restaurant will boast a menu of rare Chinese and Asian delicacies to attract the region's most discerning palates. The 60-seat restaurant will feature a private balcony and an extensive wine list.
With 204 total hotel rooms, Lucky Dragon will offer a boutique accommodation experience near the Las Vegas Strip action. In addition to standard rooms, the hotel will also offer 23 standard suites averaging 625 square feet. The top floor of the hotel will feature a luxurious 1,300 square foot penthouse suite offering panoramic views of the Las Vegas Strip, and a formal dining space suitable for catered meals, events and more.
Lucky Dragon's tea program will be among the most specialized in the city. Served in the hotel's indoor-outdoor tea garden and lounge area, the program will be helmed by Las Vegas' only tea sommelier. Offerings will include teas sourced directly from generations-old farms throughout Asia, as well as varietals sold nowhere else in the city. For guests seeking to maximize their experience, custom-built Gongfu tables will allow them to experience the traditional Chinese tea ritual ceremony. The tea garden will be punctuated by a delicate waterfall, powerful oak trees and a shoreline swimming pool.
A 4,500 square-foot spa will focus on reflexology treatments and also feature four traditional treatment rooms, including one wet treatment room and one couple's room. The spa will offer a full range of scrubs, massages, acupuncture, Chinese herbal medicines and total relaxation techniques.
Lucky Dragon Hotel & Casino will be located next to the 427-unit Allure Las Vegas high-rise tower, which principals of the hotel helped develop and master plan. Booking for Lucky Dragon will be available this summer.