By
Phil
- 15 May 2015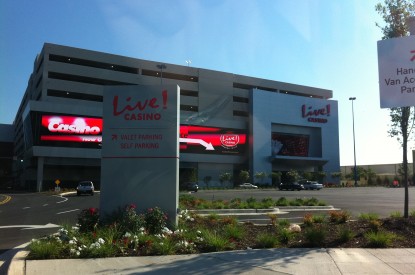 Maryland Live! Casino is launching Giant jackpots, a new mystery progressive slots program that guarantees jackpot wins from $50,000 up to$100,000.
The Giant Jackpots program is the first of its kind in the State of Maryland. Each Giant Jackpot will start at $50,000 and grow every time an eligible guest makes a spin on an eligible slot machine (excludes video poker and electronic table games) with their Live! Rewards Card or new Giant Jackpots Card properly inserted. The Jackpot increases until somebody wins, and somebody is guaranteed to win GUARANTEED TO WIN by the time the Giant Jackpot reaches $100,000! Once the prize is awarded, the Giant Jackpot resets back to$50,000 and it starts all over again.
"We're thrilled to announce the launch of Giant Jackpots at Maryland Live! Casino," said Robert J. Norton, President & General Manager, Maryland Live! Casino. "It's going to create unprecedented excitement on the casino floor to know that any wager played in an eligible slot machine could trigger the Giant Jackpot, independent of the individual slot machine's jackpot. And it's guaranteed!"
Maryland Live! Casino currently offers approximately 4,000 slot machines, and all slot machines are eligible for the progressive Giant Jackpot with the exception of electronic table games and video poker machines. As long as slot players are playing with their Live! Reward Card or new Giant Jackpots Card properly inserted, they are immediately eligible to win the Giant Jackpot, regardless of the denomination, type of game, or length of time they play.
"Giant Jackpots will allow us to attract new slot customers who may not have played at Maryland Live! before," continued Norton. "As the Giant Jackpots meter advances, the energy on the casino floor will keep building and building because players will know it's going to hit by the time it reaches $100,000. It's not only a game changer for the market, but a potential life changer for the lucky winners."