By
Phil
- 13 August 2015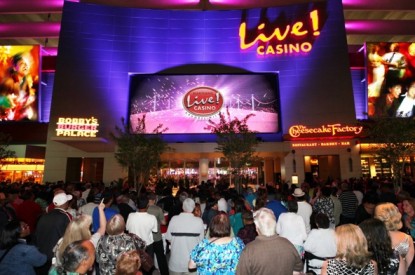 Revenue generated from The Cordish Companies' Maryland Live! Casino was responsible for 60 per cent of the FY2015 casino revenue contribution to the State of Maryland.
According to the Maryland Lottery and Gaming Control Agency, Maryland casinos contributed $487m in revenues to the State in FY2015. Of this total, $301,168,736 was contributed by Maryland Live!, the State's largest and top performing casino, which averages $50m in gaming revenue per month, more than double that of its closest regional competitor.
With more than 10m visitors per year, the facility consistently ranks as the top performing casino in the entire mid-Atlantic gaming market, including Pennsylvania, West Virginia, Delaware, and New Jersey.
Due to its success, the State receives approximately $1M per day in taxes from Maryland Live!, including gaming, property, employment, real estate, sales and use taxes, making it the highest taxpayer in the State. The Casino is also one of the largest employers in the State with over 3,000 Team Members.
"Maryland Live! is very proud of its role as a major driver of economic growth in the State," said Rob Norton, President/CEO, Maryland Live! Casino. "Our success demonstrates an unwavering loyalty from our customers, as well as the hard work and passion of our team members."
The Live! Casino brand is poised for explosive growth in the coming months with announcements coming soon about plans for a hotel and conference center expansion at Maryland Live!, as well as the development of the new Live! Hotel & Casino in Philadelphia.