By
Phil
- 1 September 2023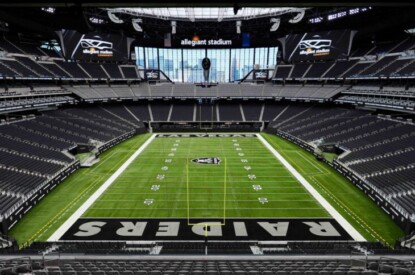 MGM Resorts International and BetMGM announced today they are launching a responsible gaming campaign at nine National Football League (NFL) stadiums, promoting their responsible gaming program GameSense during the upcoming football season. With this development, MGM Resorts and BetMGM are among the first gaming operators to promote responsible gaming through marketing within league venues.
GameSense will be promoted at the following stadiums: Acrisure Stadium (Pittsburgh Steelers), Allegiant Stadium (Las Vegas Raiders), Empower Field at Mile High (Denver Broncos), Ford Field (Detroit Lions), GHEA Field at Arrowhead Stadium (Kansas City Chiefs), M&T Bank Stadium (Baltimore Ravens), MetLife Stadium (New York Jets), Nissan Stadium (Tennessee Titans) and State Farm Stadium (Arizona Cardinals).
"This is an extraordinary moment as we work with our team partners to raise awareness about responsible gaming," said Rhea Loney, Chief Compliance Officer, BetMGM. "Throughout the season, GameSense will play a pivotal role in reminding football fans who bet, to do so responsibly."
Additionally, MGM Resorts and BetMGM are committing more than $1m annually to fund a variety of responsible gaming and problem gambling initiatives. This includes research, advocacy, prevention, marketing, and organizational support.
"The landscape of the gaming industry has evolved dramatically in recent years with the broad legalization of online gambling and sports betting," said Stephen Martino, SVP Chief Compliance Officer, MGM Resorts. "Collaboration among operators and stakeholders is essential to ensure that responsible gaming remains a top priority. These efforts are vital to giving guests, customers, employees, and companies the tools and information needed for a safe and enjoyable experience."
GameSense is an industry-leading responsible gaming program first developed and licensed to MGM Resorts in 2017 by the British Columbia Lottery Corporation (BCLC). The program focuses on positive, transparent, and proactive conversations with guests and customers about how to gamble responsibly. GameSense messaging and responsible gaming tips are now being delivered to guests on television screens in MGM Resorts' hotel rooms across the country.
"The AGA is proud to work alongside leaders like MGM Resorts and BetMGM to advance responsible gaming every day," said Casey Clark, Senior Vice President, American Gaming Association. "Their continued investment to elevate responsibility exemplifies the industry's commitments and the spirit of Responsible Gaming Education Month."
MGM Resorts' casino floors also feature slot machines that display GameSense messaging with QR codes that offer access to responsible gaming information and educational materials from GameSense. GameSense is integrated extensively into BetMGM's desktop, mobile platforms, and sports betting kiosks providing customers with the consistent and supportive information they have come to rely on at MGM Resorts properties nationwide. GameSense's integration into BetMGM offers players information on how to set responsible gaming limits, while dispelling common gambling misconceptions.
This news comes as MGM Resorts and BetMGM partner with the American Gaming Association (AGA) to promote Responsible Gaming Education Month (RGEM 2023) in September. During RGEM 2023, the two gaming leaders will place increased emphasis on empowering guests and customers to play responsibly, within legal and regulated markets. MGM Resorts and BetMGM will also elevate employee training and community collaboration, while advancing responsible gaming through research. MGM Resorts and BetMGM continue in their partnership with the AGA's Have A Game Plan. Bet Responsibly. public service campaign to educate new and seasoned bettors on responsible sports wagering.
MGM Resorts and BetMGM provide all employees with comprehensive and research-based responsible gaming training throughout the year. This training empowers employees to proactively promote responsible play and address problem gambling concerns through GameSense
Both companies have invested into the creation of innovative, story-based digital training modules, tailored to the guest service models of each organization
Throughout the month, BetMGM will host a series of lived-experience fireside chats provided by EPIC Risk Management, a leading independent gambling harm and minimization consultancy
MGM Resorts will build upon its culture of responsible gaming by encouraging participation in surveys, highlighting leadership perspectives, and featuring public service messages on property screens and Las Vegas marquees