By
Phil
- 22 August 2018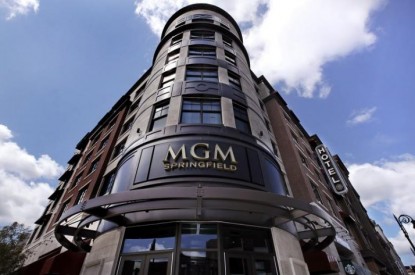 Expanding its presence on the East Coast, MGM Resorts International will open the doors to MGM Springfield, New England's first integrated luxury resort and entertainment destination on Friday.
The whole concept of the build is different and represents the first time MGM has developed a casino within existing downtown architecture with revamps of venues such as the First Spiritualist Church, Springfield Armory and Chandler Union Hotel. At a cost of US$960m it is the largest private investment in Western Massachusetts' history.
The 2m sq. ft. complex stretches across three city blocks in downtown Springfield with antique furniture, artwork and memorabilia much of which gives a nod to Springfield's and New England's heritage, much of which has been bought by the nearby Brimfield Antique Flea Market.
MGM said: "Woven through all elements of the resort, a public fine art program inspired by the industrial ethos of Springfield will feature a captivating collection of commissioned and hand-selected pieces by international and local artists from Springfield, the greater Berkshires, New England and beyond."
The hotel lobby features a sculpture called The Flying Tidings Whirled resembling a tornado to pay homage to the city's resilience in face of the tornado of 2011.
One of the main differences to the usual casino layout in the states is that the gaming floor lies in the middle of restaurants, retail outlets and bars meaning customers don't have to walk past rows of slot machines and tables to come into the venue and eat.
MGM Springfield President Mike Mathis said: "It doesn't look like Las Vegas but I don't think people will be disappointed. People will respect the amount of attention we took to make this look unique. It'll be an experience unlike any they've ever seen and comes following a decade of collaboration between the City of Springfield and MGM Resorts.
"MGM Springfield pays tribute to the city's legacy and celebrates its bright future, while introducing a stellar array of hospitality and entertainment experiences that will attract guests from New England and beyond," he added. "We are incredibly proud to debut what we believe will become the region's premier entertainment destination and play a role in an exciting renaissance for Springfield."
General Manager Alex Dixon said of the design: "It absolutely is a risk but we are an entertainment company. If we can build a product that makes people excited we can appeal to not just your traditional gambler but broaden that scope to families who want to come to a movie, get a great meal, or go to the outdoor skating rink or farmers' market."
The resort's 125,000 square-foot, smoke-free gaming floor will feature 2,550 slot machines, a poker room, a high-limit VIP gaming lounge and 120 table games, including blackjack, craps, roulette and baccarat.. As well as a hotel with 250 rooms, the venue will offer three restaurants, a food hall, a bowling alley, a golf simulator, and a movie theatre.
MGM said its boutique hotel rooms are "inspired by the historic significance, iconic architecture and literary legacy of its urban surroundings."
"Each space is punctuated by details such as quotations from the works of Emily Dickinson and whimsical Merriam-Webster-inspired works of art," it explained.
The hotel lobby is full of refurbished books including classics, books by local authors, and high school yearbooks. All the hotel's rooms are different with bric-a-brac, old photos, sports trophies and other knickknacks.
The 10-lane bowling alley will be based in the Taps Sports bar which will have more than 50 big-screen TVs, an arcade with retro video games, billiards, shuffleboard, air hockey and table foosball.
"Tap is a celebration of beer and sports. It will be warm, open and inviting – a perfect place to meet, enjoy a game or people watch, all while enjoying great food and drinks," said MGM Springfield vice president of Food and Beverage, Anthony Caratozzolo.
Housed within a 1907 YWCA building, the venue is adorned with vintage sports memorabilia, historic gym lockers and old-world bottle displays. It pays homage to Springfield being the birthplace of basketball with a mini-basketball court displaying the first hoop and hardwood flooring painted to reflect the original basketball court.
The venue also boasts an outdoor plaza and thriving public space, with the iconic 19th century Springfield Armory at its center. The historic United States arsenal will offer the backdrop for the open-air marketplace, which will feature live events, local artisans, farmers markets and seasonal programming including an outdoor ice rink. The plaza will become the anchor for the neighbourhood's pedestrian crowd, encouraging guests to explore the many local businesses and attractions nearby.
As part of the process leading up to the opening, the Massachusetts Gaming Commission (MGC) issued regulatory approval for MGM Springfield's public opening on 24 August 2018.
Under the close observation of MGC staff, MGM Springfield successfully completed test play nights on 16 and 20 August. MGC staff monitored and evaluated the practice events for strict adherence and compliance with state law and MGC's internal control regulations.
"As MGM Springfield prepares to open its doors, the MGC remains focused on ensuring that our policies and procedures protect the integrity of the industry and safeguard fair play for patrons," said Commissioner Bruce Stebbins, who observed the test nights and was delegated by fellow commissioners to issue opening approval. "I want to commend the dedication of the IEB, ITD, finance and all additional MGC staff for their commitment to the highest standards of regulatory compliance."
"Both the City of Springfield and the Massachusetts Gaming Commission set very high standards for this project. Our unique requirements included a commitment to local culture and history, promotion of regional tourist attractions, accessibility to non-gaming activities on-site, substantial mitigation payments to host and surrounding communities, a relentless commitment to diversity, and to local hiring and vendor utilisation. MGM Springfield accepted the challenge and then raised it some more," said Chairman Steve Crosby. "I applaud MGC staff for their steadfast commitment to the successful implementation of our strong gaming law and the persistent and collaborative focus on maximum job creation and economic development while also taking a proactive approach to the minimisation of unintended consequences."