By
Phil
- 24 May 2022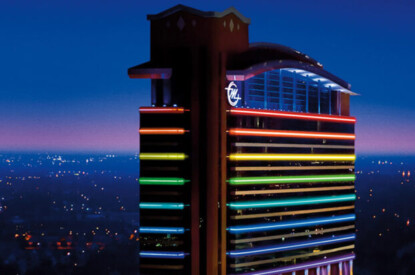 An agreement signed by Michigan Gaming Control Board Executive Director Henry Williams allows internet poker players in Michigan to compete against players in Delaware, Nevada and New Jersey. These three states belong to the Multi-State Internet Gaming Agreement, and Michigan is now a member.
"I am happy to announce Michigan has joined the multistate poker compact, and much of the increased tax revenue from multistate poker will go to support K-12 education in Michigan," Williams said. "By joining, Michigan will almost double the potential pool of participants in multistate poker games."
The Michigan Legislature in December 2020 passed a bill to allow the MGCB to join a multijurisdictional poker compact, giving Michigan residents the ability to compete with poker players in other states. Sen. Curtis Hertel (D-East Lansing) sponsored the bill (now PA 327 of 2020), which was signed by Gov. Gretchen Whitmer on Dec. 29, 2020. Language allowing multijurisdictional play was omitted from the original internet gaming law signed in December 2019 (PA 152 of 2019). The 2021 Michigan law limits multijurisdictional internet gaming play to poker.
"Michigan poker players will enjoy more options and will likely play for bigger money when they can compete against players from other states," said Sen. Hertel. "I am glad we were able to make this possible for Michigan poker players."
To obtain MGCB authorization to launch multistate poker, licensed operators and associated platform providers must complete several steps. The MGCB this April issued guidance on participation requirements for operators. The multistate poker requirements include:
– Meet all conditions and requirements established in the multijurisdictional agreement and conduct multistate poker involving only the jurisdictions in the agreement
– Approval for new platforms or platform modifications, new remote gaming systems and new game software
– Technical security standards information plus review and inspection are required for a new data center, and the agency must give written approval for servers capable of receiving wagers located outside of Michigan
– Any new suppliers used in connection with multistate poker must obtain internet gaming supplier licenses, including new platform providers, and new vendors may be required to register with the MGCB
– New operator or platform provider employees involved in the conduct of multistate poker may need to obtain occupational licenses from the MGCB
"The operators still have work to do before Michigan residents may join multistate poker games," Williams said. "The MGCB must make sure Michigan residents are protected when they play multistate poker, and we will apply the same rigor to review of the new offering as we have other internet games."
While the agreement currently is limited to four states, it is possible more states may join.
Currently, three licensed operators and providers offer online poker in Michigan: MGM Grand Detroit with BetMGM, the Grand Traverse Band of Ottawa and Chippewa Indians with World Series of Poker and the Little Traverse Bay Bands of Odawa Indians and provider PokerStars.