By
Phil
- 31 October 2022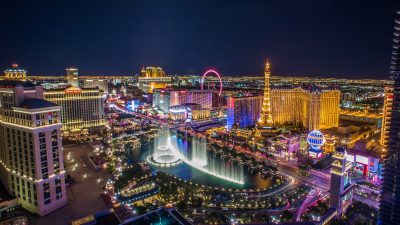 Nevada's casino gaming revenues were in excess of $1bn in September for the 19th consecutive month with analysts predicting a record year with casinos set to eclipse last year's record gaming revenue total of $13.4bn.
According to the Nevada Gaming Control Board, the state's casinos generated $1.2bn in revenue in September, an increase of 18 per cent from the same month in 2019, before the pandemic closures. Casinos on the Strip casinos generated close to $693m in September, marking an 8.3 per cent increase from September 2021.
Over the last nine months, Nevada's casinos generated $11bn, up 13.2 per cent from the same period in 2021. Revenues from casinos on the Las Vegas Strip saw an increase of 22.7 per cent.
Michael Lawton, senior economic analyst at the Nevada Gaming Control Board, said: "We have three months left in the calendar year and I'm going to go out on a limb and say this year is going to surpass last year. I like how we look for the near future. We would have to see a significant drop off, 20 per cent to not hit $1bn in October. There's nothing to support that possibility. I like our chances of continuing the streak."
"All markets are going to be facing difficult comparisons for the foreseeable future and we expect growth rates to moderate. However, downtown Las Vegas currently is up 4.7 per cent calendar year-to-date over 2021, which was an all-time record for the market," he added.
Slot machines generated 72 per cent of September's total, coming in at $856.2m, an increase of by 10 per cent with multi-denomination machines generating $447m.
Table gaming increased by four per cent to $384m, led by Blackjack, which brought in $86.4m and Baccarat, which generated $80m but was down by 27 per cent.
Nevada's sportsbooks brought in their second-highest all-time revenue month in September at $70.6m, up 30.2 per cent from last year.
Visitation was boosted by events in September, including a UFC fight card, a championship boxing match, the Las Vegas Raiders home opener, concerts and the Life is Beautiful music festival. Hotel occupancy in September was 83.1 per cent, 10 per cent above September 2021 but down five percent from 2019.
"Overall, Strip fundamentals remained consistent with recent months," Wells Fargo gaming analyst Daniel Politzer commented. "For the third quarter, Strip gaming revenue was 1 percent up year-over-year and up 23 percent versus the third quarter of 2019."
Truist Securities gaming analyst Barry Jonas, added: "We view September's report as positive as customer behavior has remained stable in the face of an impending recession."